Happy Friday!  We've had a very busy week here at Gourmet Celebrations and hope your week has been just as great.  Here is a refreshing cocktail that features a unique combination lemon and thyme, perfect for a Spring get-together.  Cheers!
Limoncello Gimlet with Grilled Thyme

Print recipe
Print with main photo
Print text only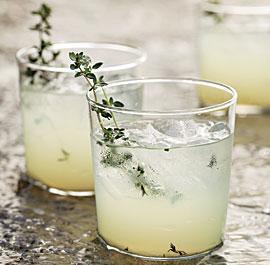 Serves 1
Meal type Beverage
Ingredients
2 sprigs Fresh Thyme
1/2oz Fresh Lime Juice
1 1/2oz Gin
1/2oz Limoncello
Note
Substitute fresh rosemary or chopped basil (not grilled) for other, interesting flavor combinations.
Substitute lemon zest, simple syrup and vodka for the limoncello.
Directions
Step 1
Prepare grill for direct cooking over medium-heat. Grill thyme sprigs until fragrant and lightly charred (about 15 seconds).
Step 2
In a cocktail shaker, gently muddle the grilled thyme with lime juice.
Step 3
Add gin and limoncello, ice and stir well.
Step 4
Strain into rocks glasses filled with fresh ice and garnish with thyme. Enjoy!
Powered by GetMeCooking
Original recipe courtesy of Fine Cooking