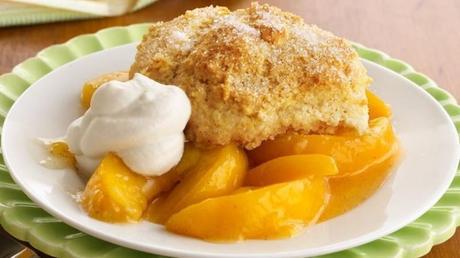 Happy Wednesday! Who loves Peach Cobbler? I do :) there are so many different ways to make this delicious dessert. My grandma is the only person in my family to make this dish and I love it–it is so yummy and I could eat it everyday–which is why I have to workout so much :) anyway if you are interested in learning how to make Peach Cobbler then keep on reading for a quick and easy recipe.
Foodie: Fresh Peach Cobbler
Ingredients:
1/2 cup sugar
1 tablespoon cornstarch
1/4 teaspoon ground nutmeg
4 cups peeled, sliced fresh peaches
1 teaspoon lemon juice
3 tablespoons shortening
1 cup all-purpose flour
1 tablespoon sugar
1 1/2 teaspoon baking powder
1/2 teaspoon salt
1/2 cup skim milk
Directions:
1. Heat oven to 400 degrees. Mix 1/2 cup sugar, the cornstarch and nutmeg in 2-quart saucepan. Stir in peaches and lemon juice. Cook over medium heat, stirring constantly, until mixture thickens and boils. Boil and stir 1 minute. Pour into ungreased 2-quart casserole.
2. Cut shortening into flour, 1 tablespoon sugar, the baking powder and salt until mixture resembles fine crumbs. Stir in milk. Drop dough by 6 spoonfuls onto hot peach mixture.
3. Bake 25 to 30 minutes or until topping is golden brown. Serve warm and if desired, with vanilla ice cream or vanilla nonfat frozen yogurt.
Have you made Peach Cobbler before? Let me know in the comments.
Stay Connected!
Twitter | Facebook | Instagram | LinkedIn | Google +
Photo(s) Source: Google Images