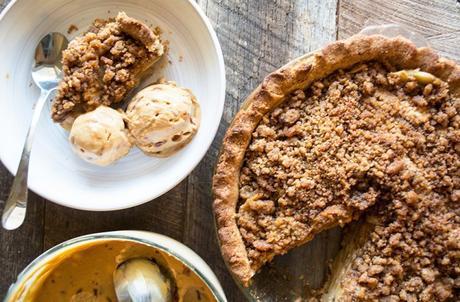 Hey there! Today I'm switching things up and sharing an amazing recipe with you guys. If you are a fan of Apple Pie then just keep on reading because I know you are going to love this.
Foodie: Crumbly Apple Pie
A buttery brown sugar topping is a fabulous variation on this classic American Apple Pie.
Ingredients:
Crust
1 cup all-purpose flour
1/2 teaspoon salt
1/3 cup chilled solid vegetable shortening
1/4 cup ice water
Filling
7 medium Granny Smith, Golden Delicious, or Gravenstein apples, peeled, cored, and very thinly sliced
1/2 cup granulated sugar
1 teaspoon ground cinnamon
1/4 teaspoon ground nutmeg
1/4 teaspoon salt
Topping
3/4 cup firmly packed dark brown sugar
3/4 cup all-purpose flour
1/2 teaspoon ground nutmeg
1/3 cup chilled butter, cut into small pieces
Directions:
Place oven rack in the lowest position. Preheat oven to 400F.
To prepare crust, in a medium bowl, mix together flour and salt. Using a pastry blender or 2 knives, cut shortening into flour mixture until coarse crumbs form.
Add water, 1 tablespoon at a time, tossing with a fork, until a dough forms. Shape into a disk, wrap in plastic wrap, and chill for 30 minutes.
On a floured surface, using a floured rolling-pin, roll dough into a 12-inch circle. Fit into a 9-inch pie pan. Trim excess dough, leaving a 1-inch overhang; make a decorative edge.
To prepare filling, mix together all ingredients. Spoon into crust.
To prepare topping, in a small bowl, mix together brown sugar, flour, nutmeg. Using a pastry blender or 2 knives, cut butter into brown sugar mixture until coarse crumbs form. Sprinkle apples evenly with topping.
Bake pie until topping is lightly browned and filling is bubbly, 35 minutes. If pie is overbrowning, cover loosely with aluminum foil. Transfer to a wire rack to cool.
How do you make Apple Pie? Let me know in the comments.
Stay Connected!
Twitter | Facebook | Instagram | LinkedIn | Google +
Photo Source: Google Images