I didn't quite manage all of my eateries over Easter but I definitely gave it a good shot...
It all started with a little after work drink and dinner in Juno Lounge on Wellfield Road...this is a regular haunt of ours...its cosy...amazing food...and a lovely atmosphere...its also fab in the summer as it has a roof top terrace you can eat and drink on...a real suntrap...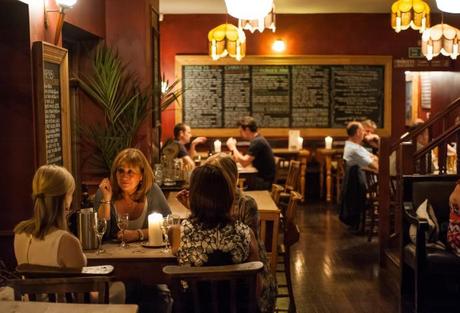 I had the Peri Peri chicken burger which was delish but the boys with us had the special of Belly Pork in a cider sauce with crackling...Ive never seen food devoured so quickly...I think they're both hoping it will become a permanent fixture on the menu...
They do amazing main meals...sandwiches...tapas and have monthly specials...as well as this they have fab cocktails...which is always a winner in my eyes...
Saturday night took me to Fusion...set in Charles Street right in the heart of Cardiff this small boutique like restaurant was a delight...as we were a table of 20 we had pre-ordered our 'Tapas Cymru' to help with the big order and we were not disappointed...the food was delicious...I had the garlic and chilli prawns, chicken goujons and spicy patatas bravas...all of which were delicious...and there was plenty more to choose from including lamb and mint skewers, nachos, mackerel pate, chicken wings and meatballs...all of which looked so tasrty and are 100% sourced from local welsh ingredients...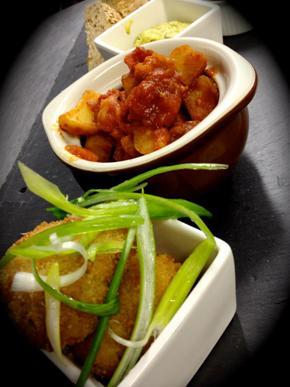 As it was a birthday surprise too we were able to phone the restaurant and give them the birthday boys favourite drink...Jack Daniels in this case...and they made a personalised cocktail you could buy on the night...a really nice touch...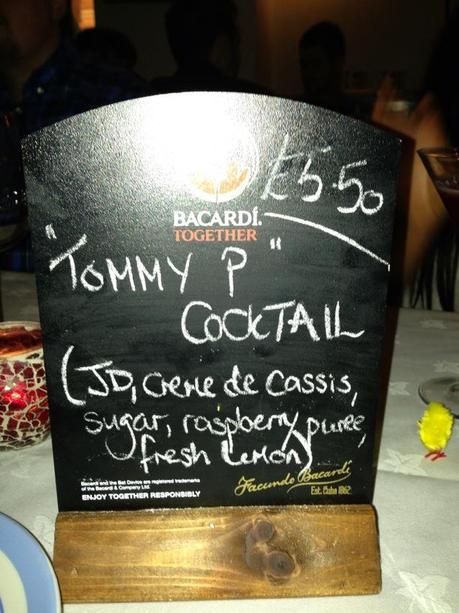 Would definitely recommend this lovely little place...they do meals other than Tapas but it really was delicious...and if you're in town mid-week then they have a fab deal on...3 Tapas and a glass of house wine for £9.50...bargain...
Finally...on Sunday we went for another friends birthday to The Chapel 1877 on the corner of Churchill Way in the town centre...built in 1877...hence the namesake...this building has undergone major renovation since 2008 and opened up as a 3 floor bar/restaurant in November 2012...the building itself is stunning and has a Gothic feel about it...the lower level is a function room which you can hire out...middle floor is a gastro bar...and the top level is an a la carte restaurant...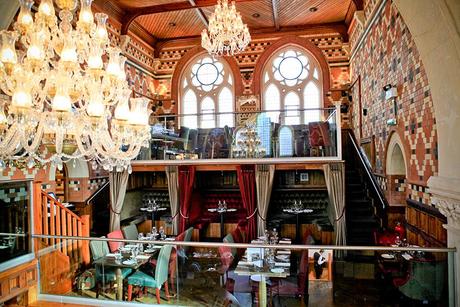 We ate in the a la carte restaurant on the top floor and the setting is spectacular...there's also a little snug for couple in velvet booths which would be lovely for a romantic dinner...
On the menu there were 3 different types of steak...rib-eye, sirloin and fillet...salmon and lemon sole...venison and veal...and gnocchi as a vegetarian dish...amongst other main dishes and a multitude of starters and desserts
The food was lovely...I'm not a steak eater but others in the party had the rib-eye and said it was delicious...one of the boys had the venison too and said it was fantastic and really different...I went for the salmon which came with crab rarebit, creamed leeks and polenta nuggets and didn't disappoint...
I would definitely recommend this bar/restaurant for either a bar meal, special occasion or after work drinks...stunning setting and lovely food and drinks...
We did attempt La Vita but it was closed due to it being Easter... and The Smokehouse was fully booked...a good sign I say and our own fault for not being organised on a bank holiday...will definitely go to both soon though...