Is the Supply Chain keeping your perishables safe?
Every time consumers shop at the market, they expect the foods they purchase to not only be safe to eat, but also a very high quality. There are no exceptions—the health of our nation depends on it.
The network of our nation's food supply is expanding. And with this growth and increased volume, comes mounting pressure on our supply chains to move food quickly and safely. According to an October 2012 article in Canadian Transportation and Logistics, "With high value, perishable shipments come time constraints and the challenge of guaranteeing product integrity."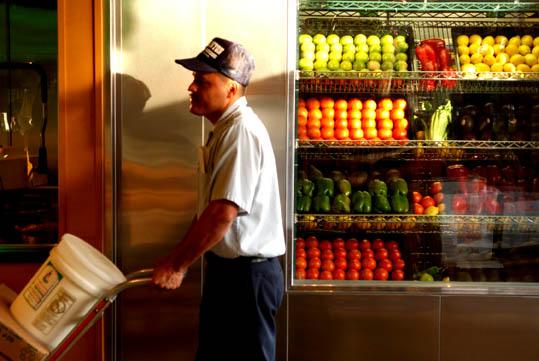 Temperature control of perishables needs to be managed from source to shelf, and at all points in between: supplier, packaging center, distribution center, retailer, and in-transit. According to Darin Cooprider, Vice President of Operations, Consumer Packaged Goods at Ryder System, Inc, "Every time (the goods) are touched, you expose the products to the potential for damage."
Of course, transportation modes must be closely controlled. Trucks and trailers must keep temperatures within the acceptable range for each shipment. Mode optimization that keeps products in transit for a limited time is crucial in maintaining food safety and quality. Grocers want products on their shelves during peak periods, not on trucks.
The packaging of perishables is a key component of how well a product ships. Perishables must be packaged appropriately to alleviate exposure and transport conditions. As a 3PL, Ryder is involved in the packaging process for many of its clients in the perishables business, both primary and secondary. As the company then manages transportation direct to the store, it can monitor the effectiveness of different types of packaging. "In either case, we are providing feedback as to damage and crushability. We talk to (customers) about needs if we are seeing problems becoming pervasive," said Cooprider.
Industry estimates report waste from perishable goods in the supply chain to be in the billions of dollars.  Cost containment in the food supply chain is impacted by everything from growing conditions to commodity prices. This environment "puts a lot of cost pressure on supply chains because they are unwilling or unable to pass on all the impact of those commodities into the price of products," says Cooprider.
It's important to find value by optimizing efficiencies that have direct impact on the competitive position and profitability of a company.
To learn more about how you can secure shipments, maintain quality, and control costs click here.