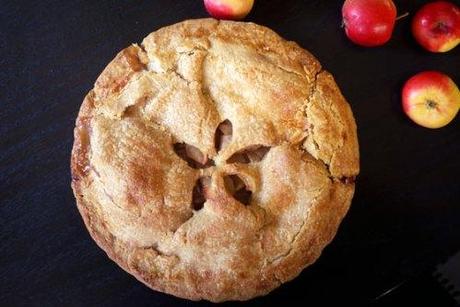 Perfection all wrapped up in a little pie! Can not wait to make this!
Salted-Caramel Apple Pie
makes one 9″ pie, serves 6-8 adults
(can be shared with kids 12+ mos)*

For the pie:
your favorite pie dough, chilled, enough for a 9″ double crust pie (I use Martha Stewart's Pate Brise)
6 large apples (mixed variety, if possible), peeled, cored and very thinly sliced
1/3 cup granulated sugar, plus more for sprinkling (optional)
2 tablespoons flour
1 egg, beaten

For the caramel (adapted from Gourmet; makes 1 cup):
1/2 cup heavy cream
2 1/2 tablespoons unsalted butter
1/2 teaspoon fleur de sel, plus more for sprinkling (optional)
3/4 cup granualted sugar
2 tablespoons light corn syrup
2 tablespoons water

1. Preheat the oven to 375 degrees. On a floured work surface, roll dough into two circles with a diameter slightly larger than 9-inches. Press one of the circles into a pie plate. Place the other one on parchment or wax paper and cover with plastic wrap. Place both in the refrigerator to chill until ready to use.

2. In a large bowl, toss apple slices with sugar and flour. Set aside.

3. Make the caramel: bring cream, butter and fleur de sel to a boil in a small saucepan, then remove from heat and set aside. In a separate heavy saucepan, bring sugar, corn syrup and water to a boil, stirring until sugar is dissolved. Boil, without stirring but gently swirling pan, until mixture is a light golden caramel color. Carefully stir in cream mixture (mixture will bubble up) and simmer, stirring frequently, until caramel registers 248°F on thermometer. Take off heat, pour into a tall glass or ceramic container and set aside.

4. Drain any liquid that may have accumulated in the apple bowl. Remove pie plate with crust from the refrigerator. Add about a quarter of the prepped apples and drizzle about a quarter of the caramel sauce on top. (Note: if the caramel has set to the point where it will not pour, place the glass or ceramic container in the microwave for just a few seconds or place in a hot water bath to liquify the caramel.) Repeat three more times, adding a quarter of the apples and a quarter of the caramel each time, until all of both are done. Be sure to finish with the caramel.

5. Remove the top crust from the refrigerator and use it to cover the pie. Crimp around the edges and make several slits or cut out holes for venting. Lightly brush the top of the crust with egg and sprinkle with granulated sugar and, if you like your sweet-and-salty treats on the saltier side, just a little fleur de sel.

6. Line a baking sheet large enough to hold the pie plate with aluminum foil. Place pie plate on the sheet and bake uncovered until the crust turns a light golden brown, about 35 minutes. Cover loosely with tin foil and continue baking until the pie is bubbling and the crust is the perfect golden brown, another 15-25 minutes. Allow to cool before serving.

*Note: Though there is nothing in this pie that is unsafe for early eaters, I recommend this for kids 12+ months due to the high sugar content. Regardless of kiddo's age, be sure to serve age-appropriate portions. A little bit of this sweet treat goes a long way with little ones!
Photos and Recipe via One Hungry Mama!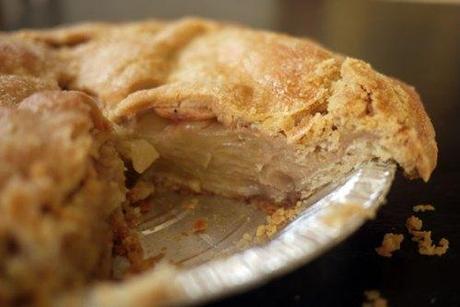 Filed under: baking, fashion, food & drink, Fort Worth, Inspiration, Pie, recipe Tagged: baking, food and drink, fort worth, pie, recipe