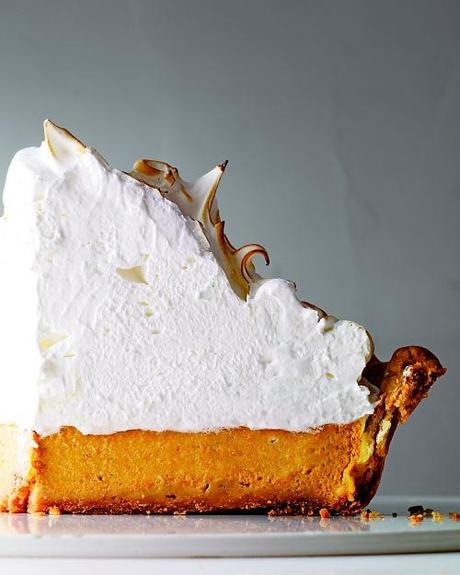 It's getting pretty close to Thanksgiving so what better for Food Friday, then PIE! Sweet, glorious, Martha Stewart pie.
Recipe and Photo via marthastewart.com!
Deep-Dish Pumpkin-Meringue Pie
Prep Time
25 minutes
Total Time
8 hours 10 minutes
Yield
Makes one 9-inch deep-dish pie
Serves 10
Add to Shopping List
Ingredients
For The Crust
1 small disk Pate Brisee
All-purpose flour, for surface
For The Filling
3 large eggs
1 can (15 ounces) pure pumpkin puree
1 can (12 ounces) evaporated milk
3/4 cup packed light-brown sugar
1 tablespoon cornstarch
1 teaspoon pure vanilla extract
3/4 teaspoon ground cinnamon
3/4 teaspoon ground ginger
Coarse salt
1/4 teaspoon freshly grated nutmeg
For The Meringue
2 cups granulated sugar
8 large egg whites, room temperature
Directions
Preheat oven to 375 degrees. Make the crust: Roll out pate brisee to a 1/8-inch thickness on a lightly floured surface. Fit dough into a 9-inch deep-dish pie plate. Trim edges, leaving a 1-inch overhang; fold edges under and crimp as desired. Refrigerate for 30 minutes.
Line crust with parchment, and fill with pie weights or dried beans. Bake until edges just start to turn golden, about 15 minutes. Remove pie weights and parchment. Bake until crust is golden brown, 15 to 20 minutes more. Let cool on a wire rack.
Meanwhile, make the filling: Whisk together eggs, pumpkin, evaporated milk, brown sugar, cornstarch, vanilla, cinnamon, ginger, 1/2 teaspoon salt, and the nutmeg in a large bowl.
Reduce oven temperature to 325 degrees. Pour filling into cooled crust. Bake until center is set but still slightly wobbly, 50 to 55 minutes. Let cool in pie plate set on a wire rack. Refrigerate until well chilled, at least 6 hours (preferably overnight).
Just before serving, make the meringue: Combine granulated sugar and egg whites in the heatproof bowl of a mixer set over a pan of simmering water. Whisk until sugar dissolves, about 3 minutes. Transfer bowl to mixer, and whisk on medium speed for 3 minutes. Raise speed to high, and whisk until stiff glossy peaks form, about 6 minutes more. Dollop meringue onto pie, and spread using a swirling motion.
Hold a small handheld kitchen torch at a 90-degree angle 3 to 4 inches from surface of meringue. Move flame back and forth until meringue starts to brown.
Filed under: baking, food & drink, recipe Tagged: baking, Martha Stewart, pie, recipe