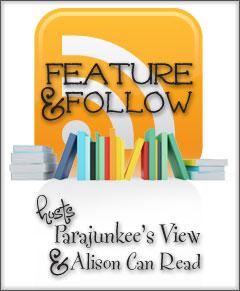 Description
Follow Friday is hosted by Parajunkee's View and Alison at Alison Can Read. It's where mega-super cool people meet other megatrons of cool. JOINN USSS.

It's hard to name just one because I usually really dislike film adaptations of books I've read because I either don't think they live up to the book, or they bore me because I know what's going to happen! I think there's a film planned for 'Jonathan Strange and Mr Norrell' which I'm dubious about because I felt with that book that it was the writing and build-up that made it good rather than the action. Magical realism never makes a good transition to film in my opinion; books can get away with being hardcore surreal and whimsical where film just can't. One which I think they should leave alone now is 'Anne of Green Gables', my favorite book as a child, as it has been made into feature films/TV movies and I don't want it being made into big feature films and for them to ruin it!
Thanks for reading and for following! I love me some followers.