For years now I've thought that I couldn't use foaming cleansers as they used to be aimed at oily skins. In the past foaming cleansers where quite harsh and used to irritate my skin. It wasn't till I was sent a few to review that I realised foaming cleansers have changed a lot over the last ten years.
I'm looking forward to trying other foaming cleansers when I've used up my current stash.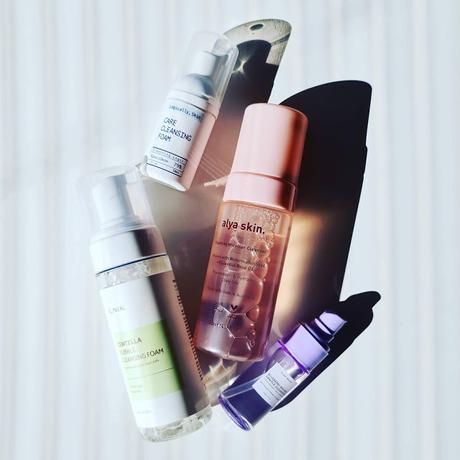 These are the foaming cleansers I'm using at the moment. 
Glow Recipe is a gel cleanser but it foams up so I'm calling it a foaming cleanser. It's thick, foams well and easily removes my make-up and greasy sunscreen. I can't use it on my eyes as it stings them.
I like to use this after I've had a day in the sun and my face is coated in layers of greasy sunscreen as it dissolves the sunscreen almost instantly.

Logically, Skin - Care Cleansing Foam
As the name suggests, this is a very gentle cleanser. It's light, fluffy and very gentle on my skin. I can use it on my eyes without any irritation. 
I like to use this as my second or morning cleanse. It does remove make-up, however due to how light it is I prefer not to use it as a make-up remover.

Alya Skin Foaming Micellar Cleanser
Oh how I love this, it smells amazing. For a foaming cleanser it's quite thick. My make-up is easily removed as is sunscreen. I can use this all over, including my eyes, without any irritation.  I like to use this when my skin is feeling irritated as it's very soothing.

Iunik Centella Bubble Cleansing Foam
I was surprised at how much I like the Iunik cleanser, it's really lovely to use. I use it for my first cleanse as it removes greasy sunscreen and mascara easily. I'm not left with that horrible squeaky clean feeling, my skin feels soft and comfortable. 
The Logically, Skin and Iunik cleansers are available from Stylevana.
Alya Skin can be purchased from Priceline.
Glow Recipe is available at Mecca.

Stylevana has kindly given me a discount code to share with you all. Code INF10BG will give you 10 to 15% off the whole site excluding sale items. 
What's your favorite foaming cleanser?

Note: The Logically, Skin, Alya Skin and Iunik cleansers were provided to me for review.