I love scones, though I do not allow myself to eat them as often as I would like...probably every day it would be. Not only I like to eat them, but also to prepare them and to watch those, for whom I made them enjoy them with a cup of tea or coffee. My husband likes these especially, because they are probably the softest scones I ever made. They make me think of our trip to Ireland, where I ate real scones for the first time:)
I just wanted to share this great recipe here, because it is indeed very easy and the result is fantastic. In 30 minutes in total you will get these crunchy on top and fluffy inside scones for breakfast. Enjoy!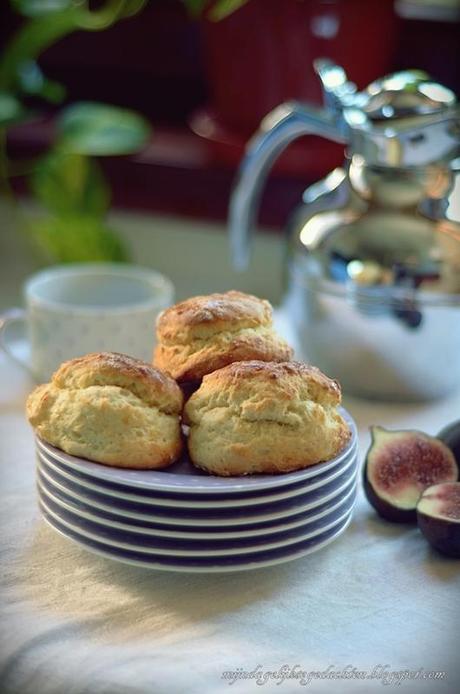 Recipe adapted from here
350g flour plus some more
10g baking powder
1/4 t.s. salt
85g cold butter
100g sugar
150ml yoghurt
4tb.s. milk
vanilla
1 egg
Mix flour, salt, soda, sugar and add cubed butter. Mix with your hands until you get small crumbles.
Make a well in the middle. Heat yoghurt, vanilla and milk in a microwave. Pour it into the center of the dough and knead until incorporated. You may use a bit more flour.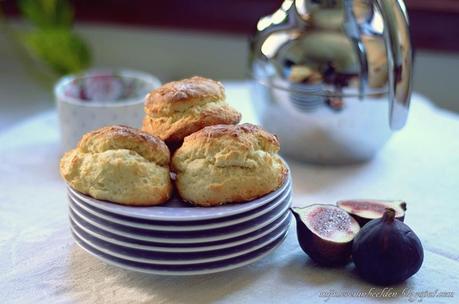 Shape the dough into a 4 cm disk and cut out scones with round cookie cutter or a glass. You will get 9 or 10.
Preheat oven to 200C (fan), place baking tray into the oven/. When the oven is ready, take the tray out, sprinkle with flour and place scones onto it. Brush with egg wash.
Bake during 12 minutes. Enjoy them with anything you like:) We actually prefer them with nothing:)