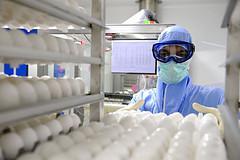 Each year in mid winter, the World Health Organization (WHO) selects the influenza strains that will be used to develop the vaccine for the following flu season.  The viruses are chosen based on which viruses are prevalent, how they are spreading, and how well the previous season's vaccine might protect against any that have been newly identified.
This year the WHO Vaccine Composition Committee has picked the same virus strains that were used to develop the influenza vaccine for 2010-2011.  Consequently, the seasonal vaccine for the 2011-2012 season provides protection against the (H1N1)-like virus (swine flu), the (H3N2)-like virus, and the B/Brisbane/60/2008-like virus.
The WHO decision does not mean that those who received the vaccine last year should not be immunized again. Immunity to influenza viruses declines over time and may be too low to provide protection after a year has passed.
Travelers should note that the flu vaccine does not protect against Avian flu, as recent reports of deaths from the Avian flu in Cambodia  remind us. Mortality rates as high as 85% for the Avian flu have been reported in Southeast Asia this year, and only two antiviral medications oseltamavir (Tamiflu®) and zanamavir (Relenza) are useful for H5N1 avian influenza.  The more widely used antivirals, amantadine and rimantidine, are of no help.  Avoiding direct contact with poultry in this region affords the only real protection against the H5N1 flu strain. 
For the latest on flu outbreaks around the world, Travelers should turn to the WHO's Global Alert and Response Network
Photo by Sanofi Pasteur.