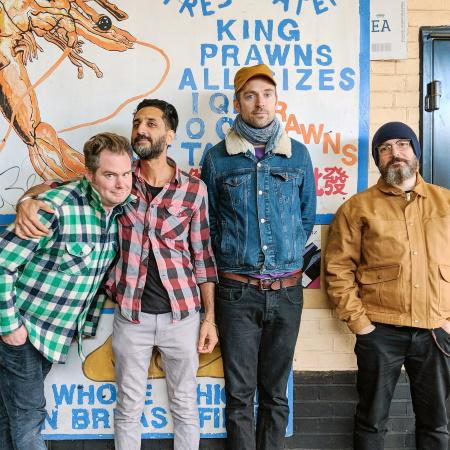 Flower of Zeus play infectious punk metal on their debut EP Diamond Rings. The London based quartet firmly beliefs in the power of the riff and is not above using some good old guitar shredding to prove a point that the guitar is not dead as a main instrument in music. Producer Pritpal Soor (vocals, guitar) and Gregg Braden (drums) got the ball rolling as a duo, before enlisting Leo Smee (bass) and Roland Scriver (guitarist) to become a classic rawk quartet.
There is little if not anything that is not to like about this debut: in-your-face, obnoxious, gnarly, a wicked sense of humor and of course lyurics about death, big beasts and overpowered means of transport. It might feel a little werid to sing along with a song called Glad I'm Dead, but it is inevitable.

Diamond Rings is a self-released EP (white vinyl, CD, digital). Buy it from their website. Both the vinyl and the CD are limited to 500 numbered copies. The CD also contains live recordings of the 4 songs and a bonus track.
Tracks:
Diamond Rings
Glad I'm Dead
Awake The Lion
Motorcycle