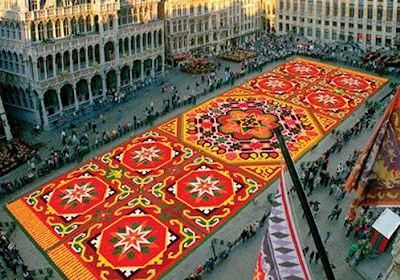 Every two years in August, an enormous flower carpet is set up at the Grand Place in Brussels, Belgium, for a few days. A million colourful begonias are set up in patterns, and the display covers a full 24 by 77 metres (79 by 253 ft), an area total of 1,800 square metres (19,000 sq ft).
Officially, the first
Floral Carpet
as its present-day form was created in 1971 on the Grand-Place by the landscape architect Stautemans, but, in fact, it was the culmination of a whole series created in various towns in Flanders.
Here's a video of last year's Flower Carpet.
YouTube link
(thanks Stanley)
The Presurfer