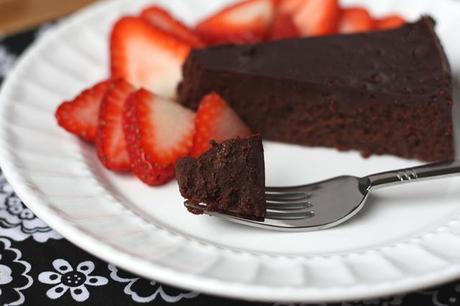 What a blessing you all have been. Another wonderful guest post from my sweet and talented friend, Mary at Barefeet in the Kitchen. 


Is there any better way to start the weekend than with chocolate?


Several years ago, a sweet friend of mine requested a Flourless Chocolate Cake for her birthday. I'd never heard of it before, but she told me that she had fallen in love with it at a restaurant once and wondered if I could make her one.
I found a number of different recipes and I tried a couple of them. Then I made this one and it took my breath away. I've made this cake several times over the past few years and every time this is served, the room goes silent.
Unassuming in appearance and almost ridiculously easy to make, this cake is a fantastic decadent treat. I use dark bittersweet chocolate, instead of cocoa powder and that difference creates an entirely different cake. This is creamy and smooth, not at all dry. The serving size truly is the tiniest sliver. The slice pictured here served two people.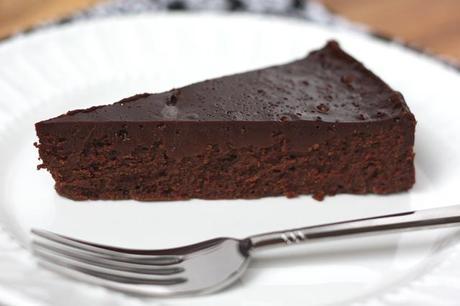 Adapted from The Gourmet Cookbook
3/4 cup sugar
1/4 teaspoon fine sea salt
1/2 cup water
18 ounces bittersweet dark chocolate, I used Ghiradelli Double Chocolate Bittersweet baking chips
1 cup butter
6 eggs
Preheat oven to 300 degrees. Generously grease a 10" round springform pan and set side. In a small saucepan over medium heat, whisk together the sugar, salt and water. Simmer, stirring frequently, until completely clear and the sugar is dissolved. Remove from the heat and set aside.
In a glass bowl over a pan of simmering water (or in a microwave at 50% power for 20 second intervals), melt the chocolate. Pour the melted chocolate into a large bowl or the bowl of a stand mixer.
Cut the butter into 1 inch pieces and slowly beat the butter into the melted chocolate one piece at a time.  Pour the hot sugar and water mixture into the chocolate. Beat to combine.
Slowly add the eggs, one at a time, beating thoroughly after each egg is added to the mixture.
Pour the batter into the well-greased springform pan. Prepare a pan larger than the springform pan and set the springform inside it. (I use the broiler pan from my oven. I have also used those huge foil catering pans with a baking sheet underneath.) Pour about 4 cups of boiling water into the bigger pan, or enough water to fill the pan about halfway up the sides of the springform pan.
Carefully set the pans in the oven and bake the cake in the water bath. Bake at 300 degrees for 45-48 minutes. The center of the cake will still look wet when it is finished baking. Chill the cake overnight in the pan. Remove the springform ring prior to serving.
Slice into very thin pieces and serve topped with fresh whipped cream or fresh berries. Enjoy!
Click here for printable recipe