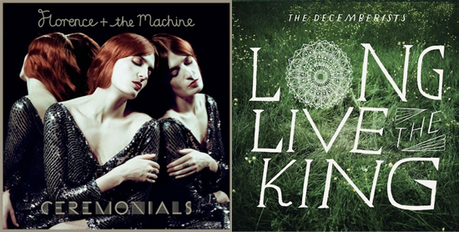 Rounding out this week's best releases: Florence and the Machine's (@flo_tweet) triumphant return, your last chance to hear new stuff from The Decemberists (@thedecemberists) for quite some time, and an album that deserves your attention simply because of the rockstar names attached — and how atrociously they've failed.

Shake It Out – Florence and the Machine // Buy
Force of nature, Florence Welch, is back with the follow-up to Florence + The Machine's insanely successful 2009 debut album Lungs. Ceremonials is a powerhouse of pop songs characterized by epic orchestral layers and theatrical dynamics. More so than on Lungs, this new album capitalizes on the subtleties of Welch's voice, but still includes the moments of commanding vocal flourishes that made "Dogs Days Are Over" such a cultural phenomenon. With Ceremonials, Welch has solidified her place among the squad of eccentric female performers (such as Lady Gaga, Janelle Monae, etc.) driving the pop industry today.

Burying Davy – The Decemberists // Buy
The Decemberists started off 2011 with a bang, releasing their country-flavored full length The King Is Dead in January. Closing out the year, the band has released a b-side EP Long Live The King, full of causalities from The King Is Dead studio sessions. Like its big brother, Long Live The King is similarly twangy and R.E.M-esque. While some moments are brilliant, others are obvious afterthoughts, and it's easy to see why they were left off the original release. Most interesting is a cover of The Grateful Dead's "Row Jimmy," which has a casual feel that many would not expect from a band often deemed "pretentious." Long Live The King neatly bookends a great year for The Decemberists and sends them off into hiatus on a high note.

The View – Lou Reed and Metallica // Buy
Early reviews of this album have been horrible. Based on a series of plays by German playwright Frank Wedekind, the 95-minute Lulu is a disaster that forces Lou Reed's (@loureed) avant-garde spoken poetry to mesh elegantly with Metallica's (@metallica) metal guitar riffs. Pretty much an epic fail. The reason it deserves a spot on the Week's Best Releases list? You'll want to hear this train wreck yourself.