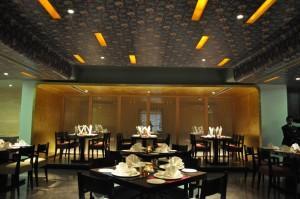 Sizzlers are essentially meats and vegetables served individually or in combination on a steaming hot metal tray whose sizzle announces its arrival. I have often wondered why is it sizzlers continue to gain popularity. As we all know food is first enjoyed by the eyes, then by its smell and then come the taste buds. Possibly sizzler is the only preparation that not only enhances the visual and aromatic quotients but also augments the sensory through its sizzling sound even before being laid on the table.
Chefs have been doling out assortment of sizzlers to suite palate of people loving variety of cuisines. We decided to try out the offerings being extended at Flluid that is located in Mosaic Hotel and visited the outlet.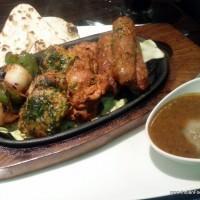 We requested for Szechuan style sizzler (Rs 999), Naabz-E-Aab sizzler (Rs 750) and Corn fed Chicken Steak Madagascar (Rs 750).  While we waited for our order to arrive we were served with a complimentary starter – a Rajasthani style mirch ka pakoda (we were told it is termed as a mush-mush; a French term for small portions being served in between meals). The pakora had a crisp quoting. The garnishing of chatni (mind sauce) and saunth (sweet sauce made from jiggery) enhanced the flavours.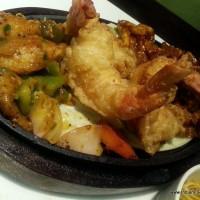 The sizzlers arrived along with a complimentary pint of beer. The Naabz-E-Aab had a good helping of grilled fish, chicken and lamb. A skewer with onion, capsicum and tomato came with daal makhani along with one naan.  This was a huge portion even for a person with my appetite. The corn fed chicken steak was a unique preparation with corn filled in the grilled chicken breast. This was accompanied by two potato jackets, sautéed exotic vegetables and a topping of barbecue sauce. The Szechuan style sizzler consisted of golden fried style prawns, squids and fish.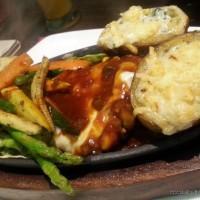 Fish tikka in Naadz-E-Aab, prepared from Basa fish and was so succulent that it melted in mouth. I would like to make special mention of grilled vegetable skewer that had mild taste of jaggery.  The sweetness of augmented the spicy taste of chicken and mutton kababs. The Corn fed chicken was very juicy and filled corn made this preparation unique and innovative. The potato jackets were excellent with a filling of corn, spinach, potato and cheese. The Szechuan style sizzler was again a combination of Chinese and Japanese culinary styles. The prawns were cooked in tempura style while the fish was prepared in Szechuan sauce. My friend found the prawns to be a little dry, otherwise the dishes were very nice.
The high calorie sizzlers that got conceived in European countries to help keep the food warm for a longer time during stiff winters is definitely now gaining admiration of one and all from all walks of life. The festival ends on Oct 7' 2013.
Disclosure: This review was done upon the invitation of the restaurant.
Rating (out of 5)
Food: 3.5 | Ambience: 3.5 | Service: 4.0 | Overall: 3.5
Meal for two: Rs 2000 | Alcohol: Yes | Credit Card: Yes
Address: Flluid, Mosaic Hotel, C – 1, Sector 18, Noida | Phone: 0120- 4025002