Flirty Eye Makeup Ideas
Makeup can definitely help transform your look, so explore the wonderful world of makeup and enhance
 your natural beauty. There are a myriad of stylish makeup styles out there, but if you're looking for an ultra seductive look to draw inspiration from, take a peek at the following designs and you'll look gorgeous!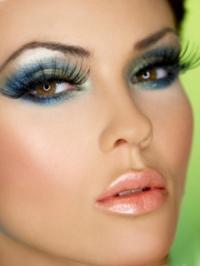 Color has a great impact over a person's look, so try to be more adventurous with your makeup. Applying the eye makeupaccording to your eye shape and eye color is a must if you want to obtain a flattering effect which will make your eyes pop. To obtain a more professional look, try to mix and match various colors, blending them together for a flawless and barely gradual transition. Don't be afraid of color and have fun with makeup. Adapt the intensity of the makeup according to the occasion as well as the time, so you can look appropriate every time. Look super trendy and feminine by drawing inspiration from the following eye makeup looks that you can copy or modify according to your personal preference for a super girly look!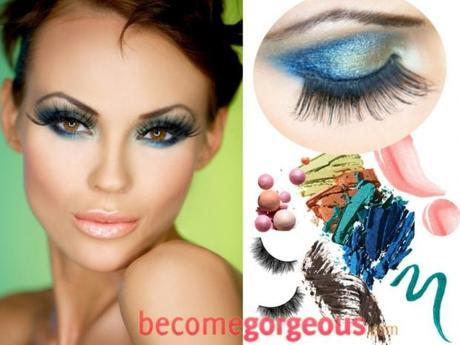 For glamorous aqua colored eyes, mix shimmering blues, teals and golds. Opt for highly pigmented eyeshadows which you'll apply over a makeup primer. The primer will be the base that makes a difference in makeup and boosts the longevity of the makeup at the same time. Start with the gold, then apply light teal on the inner corner of the eyes, then blend with the gold. Using a brush, start building-up the blue eyeshadow on the crease, blending the blue with the gold along the lash line as well. Apply gold and copper eyeshadow on the inner third of the lower lash line as well and continue with the blue pigment which will gradually become more intense as it follows the line of the eye. For that dramatic finishing touch, apply a pair of falsies and coat heavily with mascara.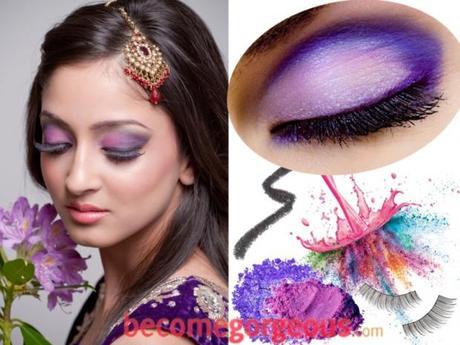 Purple eye makeup looks amazing and suits most skin tones, being a perfect option for various occasions from casual to formal. You can go for a mix of light purple tones or you can try a mix of purple and fuchsia or hot pink instead, the results being equally fabulous. The more intense the pigments, the more dramatic and fabulous the result, so opt for vivid hues if possible. Apply the pink or light purple hue on the inner two thirds of the eyelid and follow with the second color which you'll blend-in with the pink along the crease and lid. Apply in the same manner the color on the lower lash line for a more powerful look. Add a pair of false eyelashes, apply a black eyeliner to make sure they are not visible and coat the lashes with mascara.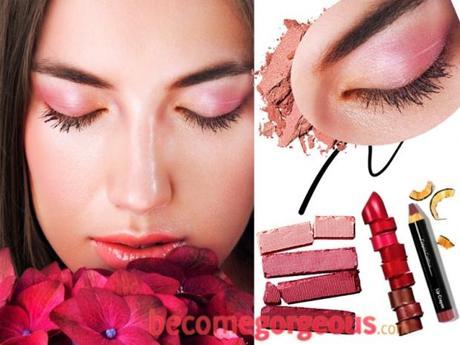 Natural makeup is a timeless trend, but that doesn't mean that you can't turn towards a little bit of color. If you're looking for a seductive, yet soft and feminine look, opt for a shimmery pink palette. Apply a light pink shade on the inner third of the eye and continue with another pink hue, one or two shades darker, to add that dimensional look to your eyes. Make sure you blend the two colors perfectly using a blending brush for best results. Use a pencil eyeliner to line subtly your lash line and coat the lashes with one coat of mascara.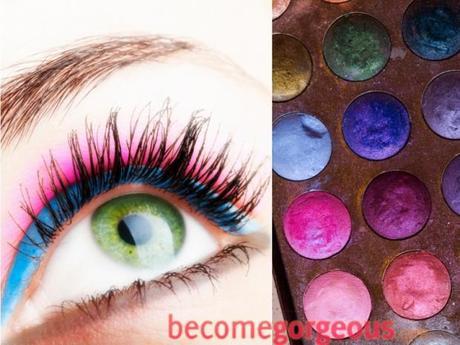 If you're not afraid of color, don't hesitate to go bold and opt for highly contrasting neon hues. Apply a neon blue close to your eyelashes and follow with a hot, neon pink which you'll blend at the edges. A simple coat of mascara is all you need next to complete your look. You can opt for other neons such as green, orange, pink, etc, as they all look fabulous. 
Credit: Thinkstock Photos