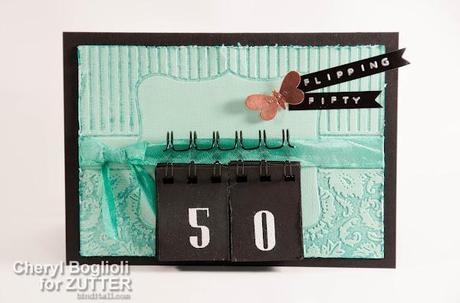 I'm excited to share this card with you today that was previously featured on the Bind-It-All blog.  I have a dear friend, Susan, who turned 50 last week.  Many of us hate those big numbers and as we age, we realize we still don't feel like the numbers represented.
I thought creating a flip chart with numbers was a fun and clever use of some Zutter O-Wires and would give her the freedom to be any age she wanted each day.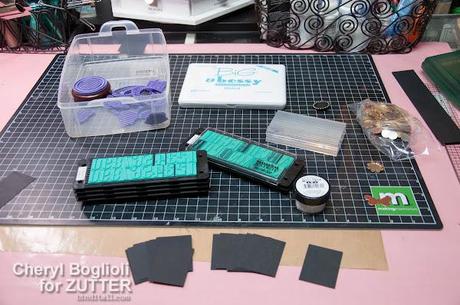 I stamped Just Rite Numbers on black cardstock rectangles with Versamark and embossed them with ClearSnap Mix'd Media Inx in Jasmine.  I didn't worry if there were little flecks because I was going for an 'aged' look.  hee hee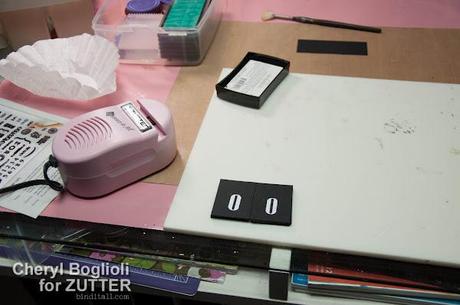 Of course I needed to add some distressing to this Flipping Fifty birthday card, so I used the Distrezz-It-All to distrezz the edges of the flip cards as well as the embossed card front.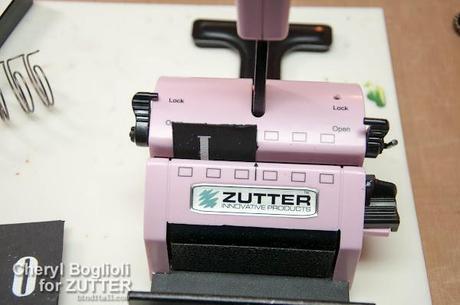 My flip cards are 1.5" x 2".  The 1.5" width was the perfect fit for three punched holes.  I lined the cards up between the halfway mark and the inner ridge mark as you see above and punched each flip card.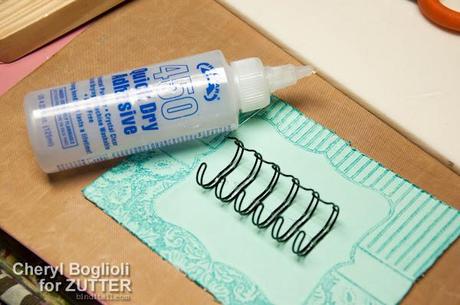 I used Helmar 450 Quick Dry Adhesive to glue down my O-wire to the card front embossed layer and covered with ribbon.  The cardfront was embossed with an inked up embossing folder from Couture Creations called Timeless.  You can find some amazing folders from Couture Creations at Crop Stop.  Inking my embossing folder gave me the letterpress look and added one more element to the card.
I then carefully pinched the O-wires only partially closed with my hands.   Now they can be changed to be any age she wants.  The numbers 0-9, on each side, are included!  I'll have to make her another when she turns 100!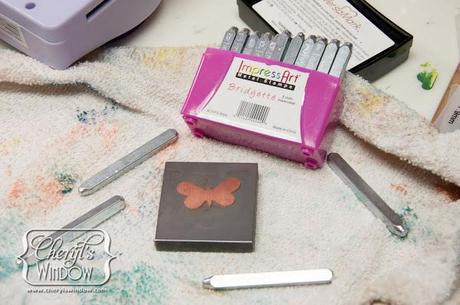 While making this card, I finally got to play with a set of new tools I received too.  I have a gorgeous set of metal stamps from ImpressArt.  This font is a tiny font called Bridgette.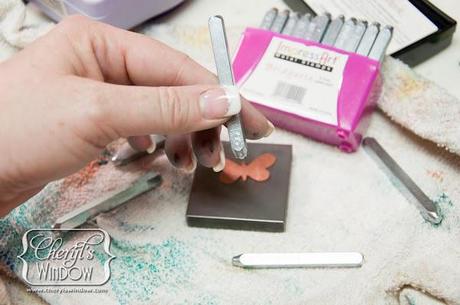 I love that these stamps have the letter imprinted on the front of the stamp so that you know which way to hold the stamp in order to make sure the alpha is not stamped upside down on your metal blank.  The ImpressArt metal stamps are hardened steel, so they should last a lifetime, and the hammer is a small, 1 pound, ergonomic hammer.  Hubby was so glad I didn't have to borrow more of this tools.  I just wish the hammer was pink too. 

  I did need to move to the counter and off my glass desktop to stamp.  I kept the ImpressArt stamping block on a studio towel to keep it from sliding around any at all.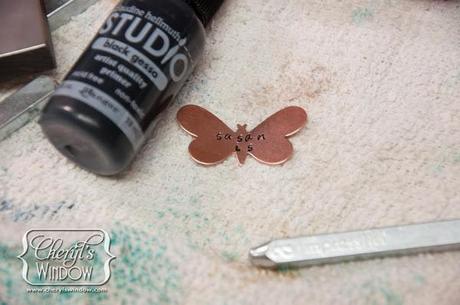 After stamping my little phrase, I rubbed a little black gesso in the impressions and then buffed the little butterfly with a soft cloth.  You could do this with any color paint or even a marker.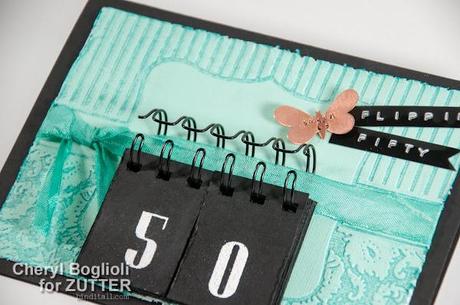 Here is a better close of the card front put together with the extra embellishments.  I can't wait to expand my ImpressArt metal stamp collection and play with these some more.  It was so much fun and really added a special something to this card.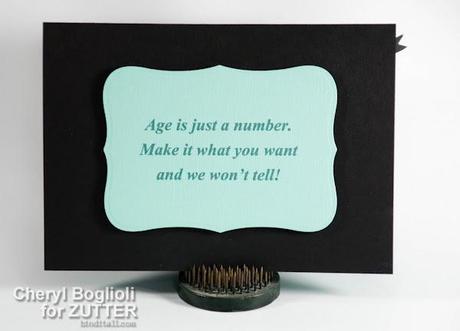 Here is the inside of the card!  I printed the phrase on my Epson printer and cut out the label using Spellbinders Label 8 and the Spellbinders Grand Calibur.  The shape was similar enough to tie into the front of the card and bring the whole thing together.
O-Wires can be used for more than binding albums!  What is something original you've done with your O-wires.  Share here and on the Bind-It-All Facebook page so that we can see.