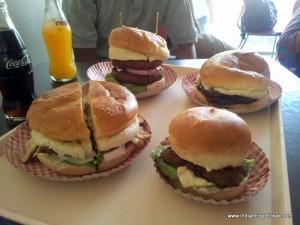 We drove to this small burger joint in the sweltering afternoon heat. I'd heard about it from lots of friends but I also know that most places people rave about fall short of expectations when I visit it. Fortunately, such was not the case for Flipp'd.
It's a non-air-conditioned, simple joint mainly frequented by teenagers. These days though, as word gets out, people of all ages come in for their delicious burgers. They have a small 4 table sit-in and an additional outdoor sit-out. It was extremely hot hence we chose to sit inside. I wanted to get into the restaurant and out of the blazing sun.
The first thing that caught my eye on the menu was onion rings. From my previous review you have probably gauged that it's a weakness. We ordered Onion rings (Rs 50/-), Cheese fries and Garlic fries (Rs 35/- each). We also ordered for Red Hot Wings (Rs 70/-).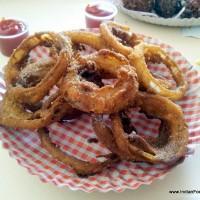 Onion Rings
The onion rings were crisp and not at all soggy or too oily. Only the last onion ring at the bottom of the plate was a tad oily. The red hot chicken wings were deliciously spicy and cooked to perfection! Had I not been super tempted by the burgers we were to have next I would have simply ordered for more wings and onions rings.
The fries were nice but I prefer my fries thicker and crisper. Flavorings on both the fries were quite good. I was extremely disappointed, though, by the ice tea. It was regular Lemon flavored Nestea but for some weird reason they have a machine that serves it with froth. The glasses were small and 25 percent of the tea was froth. No, I wasn't happy with that! Given a choice, I would pay more for the tea but would prefer a glass full of it: especially when I walk into a restaurant braving the summer sun.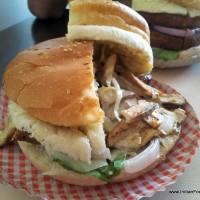 Chicken Roast Burger
As we chomped through our starters, we recalled the menu card and chose our burgers. Our choices were Spicy Fish Burger (Rs 80/-), Chicken Roast Burger (Rs 110/-), Flipp'd Special Veggie Burger (Rs 90/-), and Meat Steak Burger (Rs 100/-).
The Flipp'd Special Veggie Burger had sliced tomatoes, cucumber, lettuce, a vegetable patty and a potato-cheese patty. I'm a hardcore carnivore so expecting me to pay attention to the veggie burger, when all the while my attention is focused on the non-veg burgers lying before me, is truly unfair to the veggie burger and to me. My friends, though, who happily eat vegetarian food, said it wasn't bad. The vegetable patty could have done with a bit more flavor and something to make it softer and juicier. The Spicy Fish Burger was the size of a normal burger but it had all the makings of a very good burger. The fish was fresh, very well seasoned and fried to a perfect crisp. I could find no fault with it!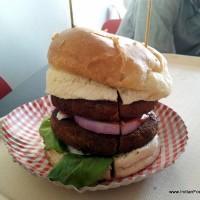 Flipp'd Special Veggie Burger
The Chicken Roast Burger and the Steak Burger! I write about both these burgers in one vein because they were both on par in taste and in size. These were huge, and I mean huge, soft buns filled with delicious mayo, chili sauce and crisp lettuce. One was stuffed, (actually over-stuffed) with roast chicken slices and the other was loaded with melt-in-the-mouth steak, marinated and cooked to perfection. One bite, of both these burgers, (especially the steak burger because I'm a big fan of red meat) and I was in meat heaven. Sigh! Succulent, juicy, packed with meat and deliciously spot-on taste-wise! What more could I ask of?? I've had burgers at so many places in the city but regardless of the simplicity of this restaurant, these burgers are truly one of the very best in Pune!
No matter where you stay in Pune, no matter how far you stay, drive/ride down to this small lane at Wanowrie and experience the burgers for yourself. It is definitely worth the trip. You will keep coming back for more and more and more!
Ratings (Out of 5)
Food: 3.5 | Ambience: 2.0 | Service: 3.0 | Overall: 3.0
Meal for two:Rs. 250 Alcohol:No | Credit Card: Yes | 
Address: Shop 1, Oxford Blues, Kedari Nagar, Wanowrie, Pune
Tel: 020 4121334
Spicy Fish Burger
Red Hot Wings
Lemon Ice Tea
Meat Steak Burger
Chicken Roast Burger
Cheese Fries