It might be a little early because we did get another $267Bn from the Fed yesterday but that plus $125Bn given to Spain this month is "just" $392Bn and that, according to our calculations, should be good for 1,340 on the S&P, tops.  If they want to get to 1,400 – they'll need another $600Bn from Europe and, while it is widely expected to come – the Fed came up short and if the EU comes up short as well, we could be talking flash crash so we took advantage of the pre-Fed run-up (as planned in yesterday's post) to get back to cash.    
My morning Alert to Members was short and sweet:
Good morning!

I don't know if you guys usually click on my little links but this one was the most important of the day – Don't be white people – GET OUT!!!!
This one was so important that I tweeted it (you can follow me here) and Facebooked it (you can follow us here) and I even put it out on Seeking Alpha's Stock Talks (you can follow me here) so don't say I didn't warn you.  Sure the market may go up as funds dress windows into the end of the Quarter/Half next week but we caught the run off the bottom this month so why push it when the upside looks limited and the downside does not?  
Other than 2014 spreads in our new Income Portfolio – all of our virtual portfolios went to cash rather than risking very nice first half gains.  As of yesterday morning they were: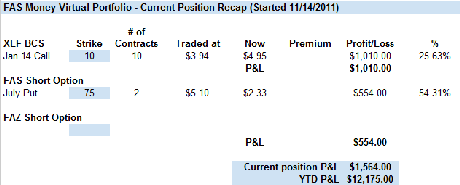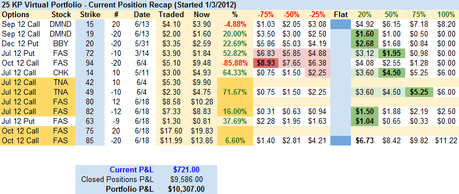 Much thanks to StJ for keeping these tracking portfolios – all back to cash now and hopefully we can match that performance in the second half of the year although I think we're going to ditch the very boring $5,000 Portfolio in favor of a $25,000 Portfolio with only ordinary margin (not…