An entire week of losses erased in a single day.  Things must be going fantastically – I don't even need to check the news – if the charts look good, then I'm going to buy stuff for lots more money than it was on Wednesday in the hopes that it goes back to where it was last month, for two weeks, before it fell…  
Hmmm, on second thought, maybe that's not such a good buying premise?  Oil blasted all the way back from $101.16 to $103.50 and that's why we were using TIGHT STOPS (see yesterday's post for details) and this morning we're right back to $101.61 again and we're doing the same play as we did yesterday.  This isn't complicated folks – we do it every month!  
USO and SCO gave people who missed them great re-entries and we stuck with those, of course, in our STP because the oil "rally" was clearly BS, with no underlying fundamentals driving the gain.  Of course, the same can be said about the broader market rally and we did, in fact, take a very aggressive short using TZA (ultra-short Russell) into the weekend (20 Oct $23 calls at .65 for $1,300) after our first stab at the weekly $23s didn't work out.   We're still looking for a rejection at 1,070, we'll just have to wait a bit for the rest of the market to wise up.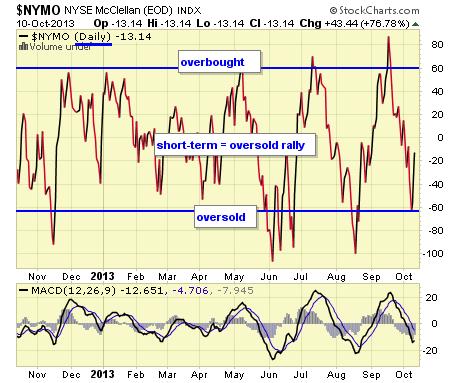 There was lots of news and quoting Jefferson back and forth and discussing Quantum Theory and how it affects the stock market in our Member Chat this morning – make sure you check that out if you you want to get caught up on the Universe
.  
At the moment, I'm more concerned by Dave Fry's McClellan Oscillator Chart on the left, which shows you that we worked off our oversold condition (that led us to make bullish adjustments on Wednesday) in just one day.  That leads us to thing we can get overbought very quickly as well so we re-covered our naked TSLA longs but we remained bullish on our NFLX long because we hedged those anyway.  
We also got jammed up like…
You must login to see all of Phil's posts. To read the rest of this article now, along with Phil's live intra-day comments, live trading ideas, Phil's market calls, additional member comments, and other members-only features -
Subscribe to Phil's Stock World by clicking here
.
To signup for a free trial membership, click here.