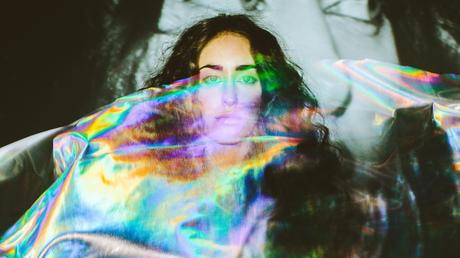 Singer-songwriter Lauren Strahm's solo project, Fleurie, brings to light a rising electro-pop talent. In 2013, the Nashville-based Strahm branched off on her own, showcasing her acoustic aesthetic on her first EP. "Still your Girl," the most recent drop off her 2015 EP Arrows, though, is a movement towards a more electronic-influenced sound, creating a surreal and illustrative story (with a video to take us there).
The video opens with a barren desert and shifts to Fleurie turning an hourglass — meanwhile, her voice drifts from one note to another, elegantly inviting dissonance. As the strings enter and swell, we become cloaked in a moving story, with small glimpses of electronic production starting to take shape. It's not until the chorus, though, when the all-concompassing synths take over. Yet, even over the heart-racing, flight or fight electronic production, Fleurie's voice remains constant. It's light and airy without appearing weak, housing an understated strength. The visuals seem to reflect that — Fleurie is alone, but reproductions of her body enter and disappear through kaleidoscopic images, like a mirage.
"Still Your Girl" points to the remnants of a love gone cold. It's a piece that's gentle, but one that's also cutting, lasting and deep. "I swear I'm still your girl," is not a plea to be together again, but a consideration of all that goes right and then, in a blink of an eye, is gone. By blending electronic production and acoustic instruments, Fleurie skillfully transcends electro pop as we know it. Watch the video above, and learn more from Lauren Strahm herself below:
The video for 'Still Your Girl' was shot on the west side sand dunes of Michigan, the state where I grew up. Throughout the video, you'll see a sand theme – the hourglass, the dunes landscape, the sand I'm laying in on the floor of an empty room. We chose this because to me sand is so connected to time, and this song is about the feeling of something being declared finished or over, and yet having the belief that there is still time…believing that your dreams are more than dreams, they're future reality.