Stunning bathing suits that match your frame inspire confidence, making any pool party, beach outing, or vacation more enjoyable. Instead of choosing bulky plus-size styles in dark solid colors to conceal your flaws, pick sexy and vibrant visions that highlight your curves. Use these tips to guide your selection for the most flattering fit and look.
Basic Decisions
Body type: First, you must understand your figure. Stand in front of a full-length mirror. Examine your body from various angles. Don't worry, everyone finds this cringe-worthy task challenging. Even supermodels nitpick over some unfavorable areas.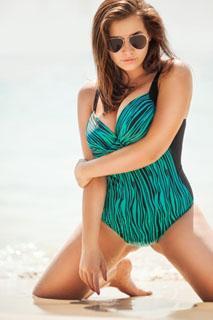 Don't focus on embarrassing spots. Pinpoint positives like a full bust or shapely legs that enhance your silhouette. Embracing your form will simplify deciding which assets to flaunt proudly and which imperfections to underplay.
Simple yet fashionable styles: One-piece swimsuits are must-have basics that provide becoming coverage for plus-size women. Carefully chosen cuts have the power to minimize, maximize, elongate, add curves, and support specific body areas.
Two-piece tankinis are great ways to obscure your midriff. Well-structured, supportive styles with built-in cups and control panels will hold your tummy in place while loose-fitting options will disguise it. Longer tops brushing over wide hips have a diminishing effect. If you're eager to rock a bikini, a top with a flounce dangling almost to your navel and high-waisted bottoms provide better coverage.
Quality fabrics: Good material construction separates firming and slimming support from frumpy, bumpy, and saggy looks. Leave limp crochet and flimsy string bikinis to women wearing smaller sizes. Your fuller shape needs more substantial, resilient, and supportive textiles.
Super-stretchy fabrics provide tummy control. Spandex can help flatten your midsection with girdle-type restraint. Skip wispy materials that became even thinner and see-through when wet, exposing flaws, dimples, and scars.
Comfortable fits: Feeling relaxed and comfortable in swimwear is paramount. Instead of fretting over your flaws, choose styles for your profile — not whatever's trending. A good fit that prevents unexpected reveals will increase your leisure-time enjoyment.
Swimsuit usage: Select designs that match your activity level. For brisk swimming and rigorous water sports, consider one-piece bathing suits. When taking small children to a beach, count on repeated squatting.
A two-piece style with a high-waisted bottom will improve your comfort while avoiding embarrassing slippages. Opt for secure straps over ties that little ones might undo, exposing too much publically. You may prefer smaller bikinis for lazy lounging and tanning days.
Slenderizing colors: Most women turn to basic black to diminish their roundness. But that intensity can appear too harsh against pale complexions. So try other dark shades like gray, navy, brown, burgundy, and deep purple to shrink your frame instantly.
Slimming and Trimming Tricks
Accentuate your positives and conceal any negatives by following these tips:
• V-neck swimsuits' slenderizing effects extend from your face to your waist.
• Cups with underwires or elastic accommodate and support full bust lines comfortably.
• For heavy breasts, thick adjustable straps are more secure than thin string ties without causing irritating indentations.
• High-cut armholes stop front and back bulges from popping out of the sides.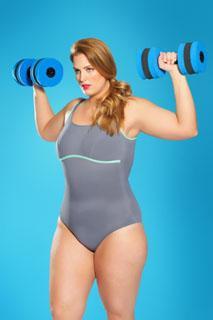 • Princess seaming that follows your womanly shape will simulate an hourglass figure.
• Creative waistline accents like color strips, belts, inserts, and fringe will define a slimmer visual separation between upper and lower halves.
• Wearing lighter shades or busier patterns on upper body areas with darker solids below will emphasize your waistline and downplay thicker hips.
• Side shirring and higher leg cuts will trim your contours.
• Swim skirts take the focus off generous midriffs and thighs.
• Enhancing your chest will pull attention upward away from a broad waist, hips, or bottom. Choose molded or padded cups and top accents like bows, frills, deep V or embellished necklines, bright tones, horizontal stripes, or bold patterns.
• To conceal stretch marks on broad lower areas, try swim skirts or dresses.
Flattering Your Shape
Browse Swimsuits Direct's new arrivals section until you spot an ideal plus-size bathing suit to flatter your unique shape. It might be a cute one-piece number in a vivid or dark color with ruffle, flounce, or crochet details.
Or pick from striped, geometric, floral, animal, and ethnic prints. For a two-piece look, choose a bikini, halter, or tankini top with a hipster or high-waisted brief. Want more extended coverage? Select a swim skirt with classic or sarong styling, ruching, shirring, or tiered ruffles. Then go out and flaunt your feminine curves!