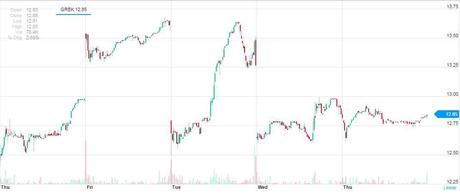 Wheeeee, what a ride!  
As you can see from the chart, Greece has been up and down 10% 4 times in 5 days and last week we gave you a Trade Idea for Greece long using the GREK Feb (expires today) $11/12 bull call spread at 0.50 to make 100% in 5 days (today) if GREK finishes over $12.  
Unfortunately, GREK had a strong open on Thursday and, by the time people could buy it, the spread was 0.60 so, at $12, the gain will only be 66% but those who played the momentum game during the week had several opportunities to engineer a 0.50 spread as the ETF ran up and down the ladder with each new statement by pretty much anyone in Europe with an opinion.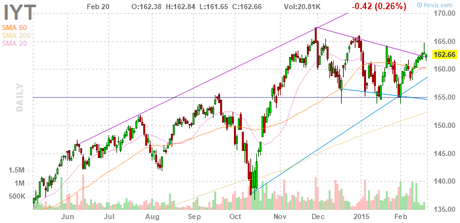 Our other trade idea from that day, that IYT would fall and the Feb $159 puts at $1.20 would double, however, was off by a mile and IYT tested $165 yesterday before calming down to $163.08 despite the now week-long port strike on the West Coast.  I can't explain that one, other than maybe we were too far ahead of the curve.  If you want to go for it next month, the premise is still valid (our timing was off) and the March $161 puts are now $2 and a trip back to support at $155 would make them $6 – up 200% would take the edge of this week's loss.  
Our CSCO spread we discussed that day is up the 4,000% we expected and our UNG March $13/14 bull call spread is on track for a 100% gain so all is not lost.  These are your last free trade ideas for the quarter – so try to enjoy them!  If you want more trade ideas, you can join us here like our new Member, Verreaul recently did (and thanks for the kind words!):
I have been reading the "free" PSW for about a year and have always liked Phil's style as it closely resembled the way I like to trade (mostly naked put options). I have been a paid subscriber for about 5 weeks and I have been learning a lot from Phil and other members. I had made some money on Phil's "free" ideas in the past and I joined because one of Phil's futures ideas paid for my subscription within the same day (NG).

Phil deserved my subscription and I was eager to learn more. I just did a quick tally and within the last 5 weeks the ideas that I chose to follow from Phil generated over 25K in options profits and 12K in futures profits (some of my trades were more conservative than what Phil's had suggested).

I have a lot to learn, experience and confidence to gain. I will try to immediately post my trades/premise (is that OK Phil) as I make them and I hope others will as well. We are all on the same journey and I think we can learn from Phil and each other. Thanks again Phil and Successful Trading to all.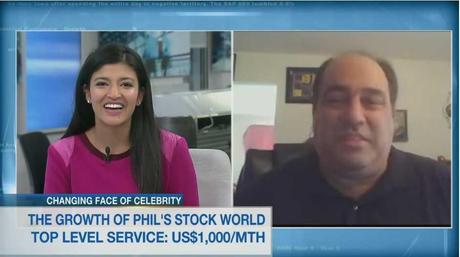 Frankly, as I've expressed in recent posts (and as I just discussed in a TV interview this week), I was beginning to have some doubts as to whether our strategy of giving away free picks and trusting people who made money to sign up for our service was still working.  All you free readers out there can thank Verreual for restoring my confidence for at least another quarter!  
After due consideration yesterday, we decided to remain aggressively short in our Short-Term Portfolio, which pairs as a hedge for our very bullish Long-Term Portfolio because we still don't trust the rally.  How many times can the markets rally because Greece is fixed?  Once, maybe twice – I can understand but this has to be the 10th time in two years – it's ridiculous.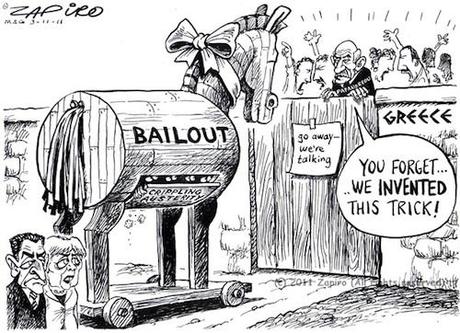 So we shorted the Index Futures yesterday in our Live Member Chat room (as I told you we would do in the morning post) as we hit new highs though we did send out a Top Trade Alert where we got aggressively long on oil as it tested $50 (along with the /CL Futures, of course).
We've taken the money and ran already on the Futures shorts but, if they do "fix" Greece this morning, we'll likely pick up some aggressive shorts into any rally because Greece is a very small part of what's wrong with the Global Economy and, as noted by Zero Hedge this morning:  "How Many More "Saves" are Left in the Central Bank Bazookas?" 
Have a great weekend, 
- Phil
Do you know someone who would benefit from this information? We can send your friend a strictly confidential, one-time email telling them about this information. Your privacy and your friend's privacy is your business... no spam! Click here and tell a friend!