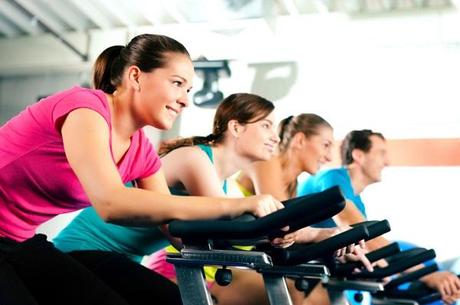 A couple months ago I won free personal training sessions. Well, my husband was actually the winner, but he graciously gave the personal training package to me because I've been wanting to get back in shape. Before I could even start my sessions, I had an initial interview with the personal trainer as well as a fitness assessment test. Talk about an eye opener. One part of the test was to jump rope for a minute. Seems easy enough, right? Well, if it's been a few years since you've really done any exercise, it's not as easy as you might think. I could only go 45 seconds before I had to stop. My heart was racing, my legs were burning, and I thought I was going to pass out. The fitness assessment gave me a reality check. I was really out of shape.
After the test, my personal trainer drew up my work out schedule and food management program. He likes to call it a "food management program" because "diet" sounds too restrictive to him. Now I'm about a month and a half into my personal training, and I can honestly say that I feel so much better in so many ways.
I'm Sleeping Better – Before I started working out, getting a good night's sleep was nearly impossible unless I took a sleeping aid like Unisom. But if I did that, I usually woke up groggy and tired. It was always a struggle to get out of bed. Now, I find myself not needing a sleep aid as often as I used to. Working out helps me burn the energy I get from the food I eat during the day. In turn, that helps me sleep much better than before.
I'm Stronger – Even after just 6 weeks, my strength has significantly improved. Just the other day I was lifting several 30 pound boxes and didn't feel too winded. If it was 6 weeks ago, that would have been a different story.
I'm Smarter – Ok, maybe my IQ didn't rocket to genius level, but I can tell that my thoughts are more clear and concise and I'm able to problem solve more efficiently. I'm sure it goes along with being able to sleep better, too.
I'm Eating Better – Yes, every now and then I'll cheat and have a slice of pizza or a reasonably sized bowl of fettuccine Alfredo. But for the most part, I'm eating more salads and veggies and have cut the carbs back as much as I can. Of course, I'm also a Type 1 Diabetic so I can't cut back too much.
I'm Losing Weight and Inches – So far I haven't dropped a lot of pounds, but I have lost a lot of inches. This means one thing. I'm gaining more muscle and becoming more toned. It's true when experts say you can't rely just on how much you weigh. If you're losing inches around your waist, your hips, and your arms then you are on the right path to becoming more fit.
Of course, not everyone likes going to the gym. Some may see it as a trivial routine or a chore. But there are different ways to get your exercise in. Maranda Gibson kills two birds with one stone. "Getting exercise doesn't always mean you have to leave the house. You can easily get your heart rate up by putting on your favorite songs and dancing around. As someone who is a neat freak at home, you can burn a good amount of calories by tackling those chores you've been putting off."
David Byrd takes a different approach with his personal fitness that keeps it interesting. "Since starting ballroom dance, I have lost 20 pounds and had to buy all new pants (my old ones were too big). In addition, I sleep better and think better. The nice thing about dance is that it's not like going to the gym and having to do repetitive exercises for an hour. It keeps me interested, especially since I get bored quickly."
Whether you're on the elliptical, vigorously cleaning house, or perfecting your dance moves, the most important thing is that you're being active. Find an activity that you enjoy and run with it (pun intended). Most likely you'll feel better, have more energy, and contribute to a healthier lifestyle.