Turn on your JavaScript to view content
Accessorizing equals efficiency and, in today's Accessorized Five Ways post, I am going to show you how using this pendant necklace from Banana Republic.
A pendant necklace is a great alternative to a bib necklace
I chose a pendant necklace this week because I think it is a great alternative to a bib necklace.  For some, big necklaces are too chunky, especially if someone has a short neck.  Alternatively, a pendant necklace can pack the same amount of punch near the neck while taking up less space.
Why accessorizing is efficient
Generally speaking, accessorizing is one of the most efficient ways to get the most out of your clothes because all it takes is a piece of jewelry, a change of a shoe or the wind of a scarf to change up a look.  Accessorizing is also efficient because it save money, is great for packing light when traveling and take a look from one part of the day to another.  Using this pendant necklace I am going to show you how.
How to efficiently accessorize using a pendant necklace
Outfit #1- Take a day dress to night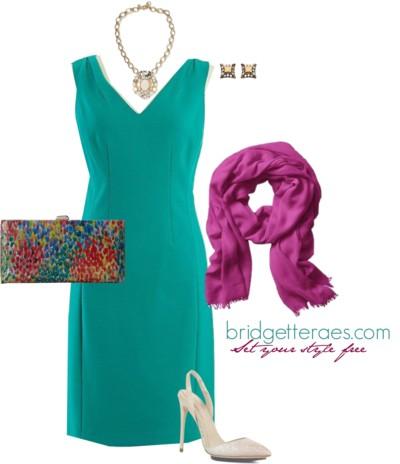 In this outfit, I take a dress from T. Tahari that is perfect for work and make it perfect for a formal event.  All it took were a few tweaks.  In addition to the pendant necklace, I added a gold shimmer shoe by BCBG, a printed Lodis clutch, a magenta wrap scarf and a pair of gold stud earrings.  If you're on a budget, and can't afford a new dress, with accessories it is easy to bring a day dress to something dressier.
Outfit #2- To dress up a work look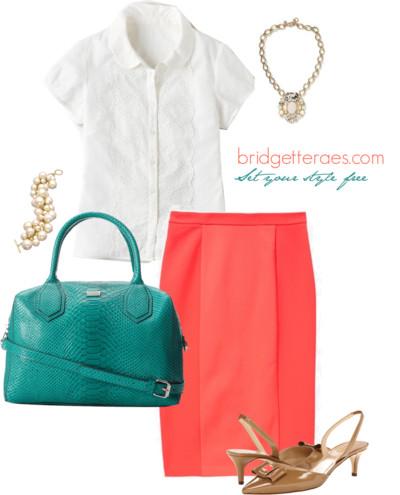 What I like about this pendant necklace is that it is blingy enough for dressy but understated enough for daytime.  Here, I styled this necklace for work.  Talk about efficiency, not only can you get a lot of use from one necklace, but it is a perfect piece to add some finish to a basic work look, like this pencil skirt from Pink Tartan and this blouse from Boden.  This outfit is further styled with a turquoise handbag, a pair of Kate Spade kitten heel slingbacks and a pearl cluster bracelet.
Outfit #3- Dressy Casual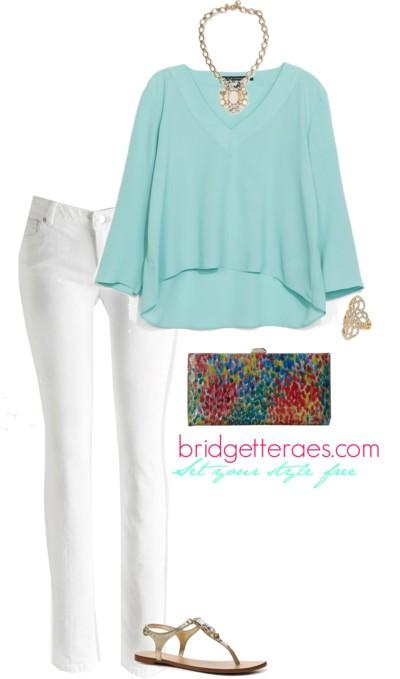 During the summer, you may have an event to attend where jeans and a top are fine but you want to look a bit more pulled together.  Here, this pendant necklace fills in the neckline of this
mint Zara top
and looks fresh with this pair of
white jeans from MICHAEL Michael Kors
.  With
gold sandals
, the
same clutch as used earlier
and a statement ring, the outfit is good to go.
Outfit #4- To dress up a casual summer maxi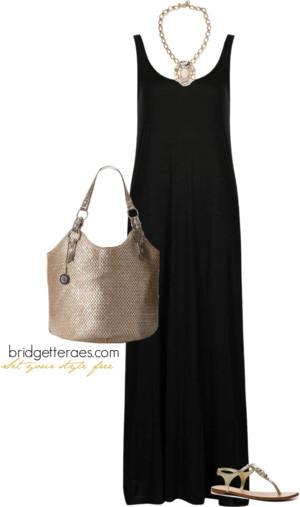 Let's say you're on vacation.  It's a whole lot easier to pack accessories than clothes.  Accessories can be those great pieces you use to get more with less when traveling.  But you don't have to be on a vacation to somewhere tropical to take advantage of this.  Here, this basic Topshop maxi dress in black gets ready for a night out or dressier event with the addition of this pendant necklace.  To finish off the look, I used the same gold sandals, as used previously, and a gold handbag.
Outfit #5- To dress up jeans and a t-shirt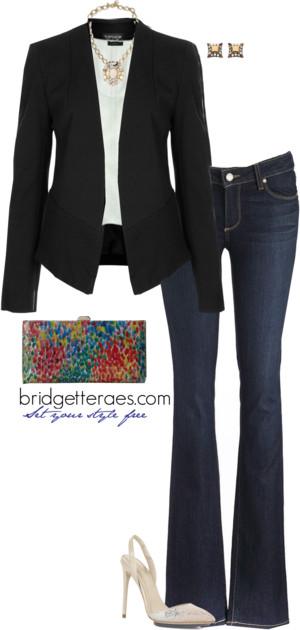 Now let's say you are traveling for business.  You pack a pair of jeans for a possible night out with co-workers, and use your blazer, like this one from Topshop and a white work top, like this silk crepe t-shirt from J. Crew to put together a dressy, work appropriate look together.  By packing this pendant necklace the outfit is finished.  Yet, again, you don't have to be jet-setting to reap the benefits of this solution, this is a great going out look using pieces found in most wardrobes, and just another way to show how efficient accessorizing can be.  The outfit is finished with the same gold shimmer heels from BCBG, the colorful clutch and stud earrings.
Shop pendant necklaces
Check out these styles

Turn off your ad blocker to view content

Repost This Article