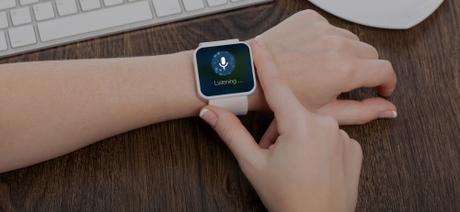 "To think outside the box, you need a box" a 2013 Psychology Today piece pithily states. It just so happens that the Apple Watch is a tiny box, with a 33.3mm width on the smaller model. No room for anything here beyond the bare essentials, presented in the most space-efficient way possible.
So when a popular wearable declares the keyboard inessential, what do companies do? They nix it, of course, and come up with interesting new ways of accessing and displaying content.
While many Apple Watch apps feature voice dictation, the following five are early adaptors of voice search on the device. Search is both a much more complex challenge than dictation and the only way of delving deep into an app's content offerings.
It's worth noting that while the introduction of voice search in these apps is exciting to witness, the functionality needs work. The input is keyword-based, making conversational queries impossible, and the lack of domain-specific training results in inaccuracies. However, these apps do provide a cool peek into the future – one in which amazing content experiences aren't constrained by the devices they're accessed on.
Without further ado…… the five apps:
1)  Yell provides local business search across the UK. Their Apple Watch app, equipped with voice search, helps users on the go find the services they need.
2) Livestrong, the health and wellness hub, has debuted the Watch-friendly version of the Livestrong.com calorie-tracker app, which lets users search for foods by voice as they track their calorie intake.
3) Dictionary.com's iOS app is now on Apple Watch. It provides a voice-powered word-lookup where you can query a word to find its definition.
4) Amazon's Apple Watch app is an ambitious undertaking: enabling watch-wearers to buy pretty much anything with a tap of the wrist. However, they will need to up their search game, as it's unlikely buyers will have patience to scroll through wrong results on a tiny screen.

5) iHeartRadio's app lets watch-wearers use their voice to stream AM and FM broadcasts, iHeartRadio music events, and more.
Interested in exploring the possibilities of voice yourself? MindMeld's end-to-end solution voice-enables applications on any device. We have four different demos available on our website, and it's free to sign up for the MindMeld developer platform and experiment with our technology yourself.