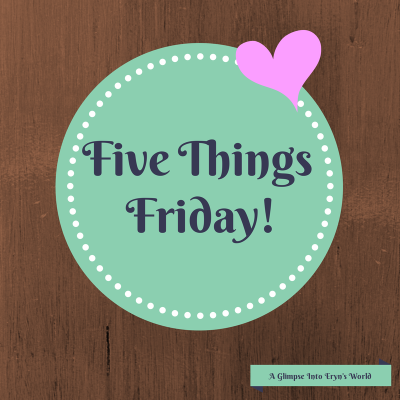 Happy Friday friends! This week flew by… and I'm really starting to hope they slow down a little so we can enjoy the beautiful summer weather that we're finally getting! This week, Five Things Friday will be a bit different. It's the Nostalgia Edition. Why you ask?
10 years ago today, I graduated from high school. And I'm kind of in shock. It doesn't seem like it's been 10 years. But it has, and a lot has happened in my life in those 10 years. I've (obviously) grown up. I've gotten my BA and MS. I met the love my life. Got engaged. Landed my dream career. Watched as my childhood home sold and my parents bought their dream retirement home. And so on. So today. We're going to talk about my top 5 memories.. jumping into the way back machine!
1. The 8th Grade New York trip: This was the first big 'trip' our grade took together. We were all 13 going on 14, getting ready to go to high school, and were all sorts of crazy. We all had trips together in the past (Camp Kiev in 6th grade….) but this was the first time that it was a trip of fun things, not educational. We got to choose our hotel roommates (of course we all chose our best friends), and we stayed in a (what we thought was) a swanky hotel in New Jersey. We got to eat breakfast in the hotel lobby, roam the halls until all hours of the night (despite our teacher's wishes) and got to see all the sites. The Statue of Liberty, a Broadway show, Times Square, and so on. I wish I could find the pictures from that trip because we all took a picture looking back at the Manhattan skyline on our way to the Statue of Liberty with the Twin Towers at the center of it all. Little did we know that just a couple of years later, they would no longer be standing proud. The memories are some I will always cherish. The first time we got to be let loose in a big city.

2. 9/11: I won't go to depth into it. It's not a fond memory. It's not my top memory. But it happened while I was in high school. And despite the horror and the tragedy, our high school came together. We found ourselves leaning on fellow classmates we may never have spoken too before. Trying to sort out what was happening. And like everyone, classmates and teachers were touched by the tragedy in some way. In our case, a passenger on one of the planes was from a town over, and one of our teachers had taught him school. If you ever want to read my post about it, I wrote about where I was a couple of years back.

3. My friendships: I know. Cliche. But back then, my life revolved around three things. My family, horses and my friends. I couldn't wait to meet up with all of them in our usual spot in the hallway before classes started in the morning, I couldn't wait for lunchtime to see them and chat, and I couldn't wait for school to be out so I could hang out with one of them. Growing up, even back in middle school, I loved riding my bike to friends houses and spending the day. Or roaming our neighborhoods until the sun set. Life was simple. Even when we hit our high school years, and suddenly we were all dating, driving and taking part in new activities. Life was simple. That's all we had to worry about. While I may not talk to all of my high school friends anymore, I know that I will always cherish the friendships I had with them. They helped to make me who I am today. And I'm proud of all of them for what they've done with their lives. Here we are, 10 years later, and the people I expected to be friends with forever, are mere acquaintances now, and their are some who I've grown closer too. And that's just life. And either way, I've created some amazing memories along the way; memories that will I will always cherish.

4. My favorite classes: Yes. I was a nerd. And yes, I enjoyed going to class (well most of the time). I never skipped. Unless I was at home sick. Or traveling (which we only did on breaks because my dad was a teacher too). Or at a horse show (which only happened in May or June… sometimes in September/October). But there are classes that will always stand out in my mind. History classes with Mr. Gaudiano (the high school football coach at the time), Psychology and Sociology classes with Mr. Brush (where I realized how much I loved Psychology and became comfortable standing in front of a class speaking), Photography (where I first discovered my love of photography. I considered for a split second going to art school…. but that passed quickly), Oceanography (we had like 8 people in our class and used to take trips to the beach. It was awesome), Marine Biology (same thing as Oceanography, but with a way better teacher.) and any class with Mr. Hill and Mr. Gagnon.

But one class that truly stands out in my mind was my Theater class. I was never into theater but I figured I would give it a shot. What I discovered was a new love for the stage, despite horrible stage fright. I never joined any of the performances, but loved being up there with my classmates. I even helped out on a stage crew with one of our performances. It was a lot of fun, and really helped to bring me out of my shell.

5. Graduation: Also cliche. However, graduation is one of those moments that no one should ever forget. You've made it through 4 years of the most complicated, awkward and best years of your life, and now it's time to celebrate. My high school years, while memorable, were nothing to write home about. I was a good student, who worked hard for my grades. I didn't participate in extra-curriculars because I didn't have time because of horseback riding (that was my extra-curricular). I wasn't one of the 'popular' kids. In fact, I was kind of nerdy. I would have rather have my nose in book then going to the parties around town. And looking back, I'm glad that was how I was. In fact, looking back, the week leading up to graduation, I had a horse show. And I was completely fine with missing out on graduation activities so I could be at the show. But the school wouldn't let me. So I had to go to my school events and then race up to the horse show (even getting dressed in the car on the way) so I could compete.

We had numerous 'graduation day' practices too. We had to practice walking into the stadium. One of my friends reminded me of this, and how the 'step-together', 'step-together' will always be in her mind. We had to practice this for HOURS and if you missed a rehersal, you couldn't walk on graduation day.

But the day graduation came, I took it all in. I was in my graduation garb, surrounded by my friends. It was a rainy day, but I didn't care. I just wanted to be down with high school. I couldn't wait to move on to the next chapter of my life. I listened intently to the speeches. I clapped; I cheered. I stood up when they announced who received scholarships. We got up and got our diplomas from our principal and our mayor at the time. Posed for a picture and sat back down. But we all just wanted to get through the ceremony and toss our caps in the air. That crucial moment when it means 'We did it! We graduated high school!' That moment was one I'll never forget. I was officially the Graduating Class of 2004.