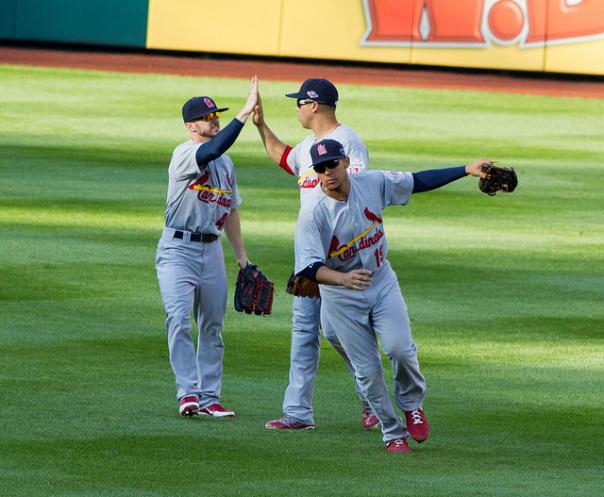 Photo by Keith Allison on Flickr
The St. Louis Cardinals are once again on the brink of heading to another World Series. Some think there's no explanation for it. After all, they did just lose franchise slugger and superstar Albert Pujols to the Angels last offseason. How can a team compensate for such a loss? How can the worst regular season team to make it to the playoffs be one game away from back-to-back World Series appearances? Here are five reasons why:
1. Pitching
With Kyle Lohse anchoring the pitching staff this season, the Cards have a plethora of starting pitching. Adam Wainwright, Chris Carpenter, and Lance Lynn have all risen to the occasion in the playoffs this year. They come up with big games when it counts, and that's a theme with this Cardinals team going back to last year. Closer Jason Motte has done his job as well, only allowing one run through 7 and 1/3 innings this October.
2. Managing
Mike Matheny has to be given a lot of credit for the job he's done with this Cardinals team. Like last year, they are coming together as a group at the most important time of the season. He's calm and always seems to make the right moves, in this his first season as manager.
3. Timely hitting
Unlike the Yankees, the Cards always seem to get the big hits when it really counts the most. Daniel Descalso and Pete Kozma got the biggest hits this postseason in game 5 against the Nationals. Again on the verge of being eliminated, the two hits tied the game and put the Cardinals ahead, advancing them to the NLCS to face the Giants. Give the Cards a lot of credit for constantly coming up in the clutch, even on the edge of elimination.
4. Players born for the postseason
It's true, the Cardinals are filled with players just dying to play deep into October. Obviously David Freese has to be the number one guy on this list after what he did in last year's World Series. But again, players like Descalso and Kozma continue to step up for St. Louis. Two nights ago, it was Matt Carpenter filling in for an injured Carlos Beltran, who hit what would be the game winning home run in the third inning. Matt who? It's guys like this, even coming off the bench, who thrive in the big moment.
5. Heart
One cannot simply define how much heart a team has, but the Cardinals have it. They have a whole lot of it. You can't do what they've done in these last two postseasons with out it. Even when it seems like their magic has run dry, they find a way to win baseball games. This is a team that literally defines Yogi Berra's saying "It ain't over till it's over." The Cards have no quit in them, and that is a true measurement of heart.