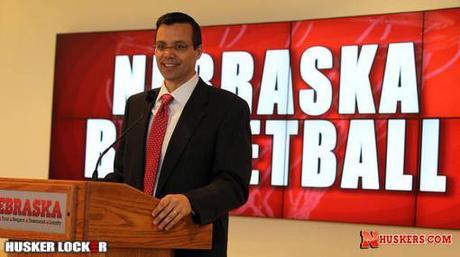 Share this story
By Chris Labenz
We've established why Nebraska can have a top 25 program on a consistent basis, but now we're going to take a look at the flip side of the coin
Lack of History and Tradition -
Every Saturday in the fall, Husker fans flock like Sandhill Cranes to Memorial Stadium to cheer on one of the most historic football programs in the nation.
Claiming the longest sellout streak in the NCAA, along with multiple national titles and Heisman trophy winners, Nebraska football is rich in winning history and time-honored tradition.
This is not the case for the men's basketball team, which hangs its hat on one Big Eight Conference Tournament title and the unfortunate honor of having never won an NCAA tournament game.
Because of this lack of history, potential assistant coaches and fans have a hard time getting past the notion that Nebraska is solely a "football school," where basketball is simply a way to kill the time until spring football practice.
This mindset has to change in order for the Huskers to start attracting high-end talent, winning games, and convincing folks that Nebraska can be more than a one-trick pony in big time sports.
Nebraska head coach Tim Miles has said that coaching at Nebraska is his dream gig, a place where he wants to build a consistent winner and retire.
While this desire is a nice starting point, coach Miles will have to overcome decades of futility to make NU a winner. With the deck stacked against him, Miles' task in producing a turnaround worthy of notice by fans and recruits in the vein of Billy Donovan at Florida will not be an easy one.
The Big Ten Conference -
While it is a positive that Nebraska is a member of the best basketball conference in the country, the flip side is that the Huskers will face stiff competition for both victories and recruits on a yearly basis.
From top to bottom, the Big Ten will have a gauntlet of great coaches with the ability to lead teams deep into the NCAA tournament. In addition to the big dogs like Michigan State and Ohio State, other conference mates take their hoops very seriously.
Illinois was down this season, but they signed Ohio's John Groce to take back control of its fertile Chicago-recruiting footprint and continue being in the hunt for conference and NCAA titles.
Minnesota will continue to be a competitive squad while Tubby Smith is running the show, and Northwestern was one victory away from gaining a spot in the NCAA tournament and made it to the NIT final.
Overall, it's clear that Miles and Nebraska will have to outwork and out-think opponents on the recruiting trail and on the hardwood in order to crack the top half of the conference on a consistent basis.
Inability to only Recruit Locally –
In hiring Miles, Tom Osborne noted that he was impressed with the former CSU head man's ability to recruit quality players from the state of Nebraska.
While this is a positive sign going forward, Miles must have a much broader recruiting focus if he wants to land the type of players that can have the Huskers competing on a nightly basis.
Nebraska has produced some quality players over the years, and it was frustrating to watch them play elsewhere after spurning offers from Barry Collier and Doc Sadler.
If Miles can land the best the state has to offer, like Omaha Central's Akoy Agau, it will be a nice springboard to filling the rest of the class with top players from the rest of the country.
The new head coach made a big statement by bringing ace recruiter Ronald Coleman with him to NU, but going up against the likes of Izzo and Matta on the recruiting trail is never easy.
Nebraska is Perceived as a Football School -
Not only will Miles have to scour the country coast to coast to fill his roster with quality players, he'll have to overcome the stigma in place when trying to convince players to sign with the Big Red.
Recruits get excited about offers from Michigan State, Ohio State and Wisconsin, but they won't have this reaction to an offer from the Huskers, at least not in the beginning.
However, one or two top recruits can swing the momentum of a college basketball program, so if Miles and his crew can land some surprises, the momentum should build.
The full effect won't happen until Nebraska finds itself discussed on ESPN and in the top 25 of the rankings consistently.
Poor History of Developing Players Over Their Careers -
Under both Barry Collier and Doc Sadler, it seemed like players never got better during the course of their careers at Nebraska.
Key contributors like Joe McCray, Jason Dourisseau, Wes Wilkinson, Brandon Richardson, Bear Jones, Toney McCray and others came to Nebraska with lots of hype, but plateaued or regressed.
There is no evidence that Miles will have this same problem, but it's clear that the difficulty in landing quality recruits makes the job of developing players even harder.
He has eased the concerns of many fans by stating that he wants to avoid signing JUCO transfers and foreign players as much as possible in order to maximize the chances of incoming players making an impact.
Can they or can't they? It should be fun finding out.
Follow Chris on Twitter:
@chris_labenz
Follow Husker Locker's Official Feed:
@huskerlocker
Like us on Facebook:
Official Husker Locker Page
Permanent Link to this Blog Post