I cannot remember the last time I was so happy it was a Friday. This week…I need it in my rearview mirror. I'm linking up for Five on Friday again- I enjoy getting all the "little bits" out before the weekend.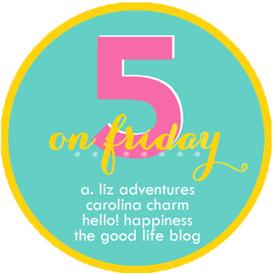 1. My job is generally enjoyable and rewarding but this past week has been a bear for so many reasons both within and completely out of my control. These weeks happen, but I'm ready to say "sayonara" and kiss it goodbye. In the midst of a particularly terrible mood about situations brewing I realized that the Prednisone I'm taking all week probably is not helping to tint my glasses any shade of rose. Numerous times I heard expletives coming from other parts of the office and more than once I saw someone checking a calendar to see if it was a full moon. I'm hoping next Monday starts off on a better foot.
2. We bought a new (to us) car! It is so exciting! My terrible commute of trains, trains, shuttles, busses and strollers on stairs is over you guys. I couldn't be more excited. We still have our trusty old sedan so while my ride isn't anything fancy it allows me a lot more freedom with my commute, daycare pick up and errand running. The new car (that B mainly drives) is an SUV (GMC Terrain for those curious) and the room is downright luxurious. Our summer trip to Northern Michigan is going to be so much more comfortable without all of us being crammed into our small car. Creature comforts have come a long way in the last ten years as well- why yes, I would like my seat heater on, thanks much. Although I am salty that it is cold enough in May for seat heaters, but I digress…..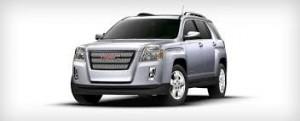 3. More consumer goods…. my birthday is at the end of this month and my parents surprised me with the umbrella stroller I'd had my eye on- the UppaBaby G-Lite. (Full mark of adulthood: a stroller as a birthday gift makes you very happy). We have the full sized UppaBaby Vista that we love but some situations calls for something light and small. The carry strap is probably my favorite feature after the oversized SPF 50 sunshade and the extra-tall handles. The G-Lite doesn't recline (the fancier G-Luxe version does) but Gracie has established herself firmly anti-stroller nap so I don't think this is a make-or-break feature, and I liked that without it, the stroller weighs a few pounds less. It will be great for travel and quick trips into the grocery store. You can purchase a separate travel bag for it (for checking on the plane) and it comes with the assurance that if the airline breaks your stroller while it is in the bag, UppaBaby will fix or replace it. Nice insurance policy if you ask me- definitely something we will get before we fly.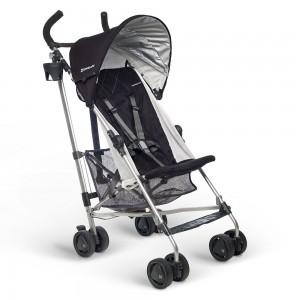 4. After our April-palooza of travel (wedding, sailing, Easter, baby shower) we are excited to be sticking around the Chicago area for awhile. I'm also excited to restock our cupboards. I've been doing bare-mimium grocery shopping to get by and we are running out of staples like pasta, string cheese, yogurt and fruit. Lunch has been an interesting buffet lately…a package of Annie's cheddar bunnies, the last apple, oh look we have oatmeal…. yeah, time for some serious restocking. Speaking of oatmeal though, my Aunt recently recommended this overnight oatmeal recipe and I can't wait to try it. Bonus: it requires mason jars so I know I can be popular on the internet when I Instagram a picture of my breakfast

5. Gracie turned 15 months old and to mark the occasion I've been packing away 12 month sized clothes that are slowly starting to become too short. Of course most of her 18 month clothes are for warmer weather (cough cough Mother Nature) so I'm hoping that the freshly washed bathing suits and sundresses help us all out with some good weather karma. The cold grey rain is not that much of an improvement from the cold grey snow.
Amazon links are affiliate.