Today's methods of playing games have evolved way beyond game consoles and computers. With the help of latest gadgets like smartphones and tablets, people are now turning to play games online and on their phones more often than before. This has even started to threaten console and PC game development. LA Times reports that according to a recent study, the percentage of people playing online games has gone up to 70% from 50% two years ago. I think it's safe to say that the Internet is the future of video games.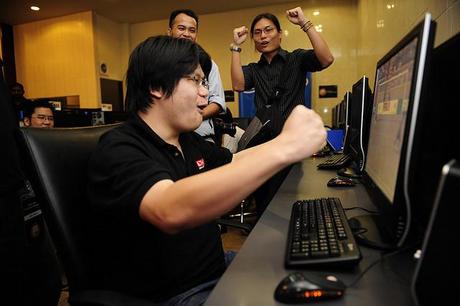 [Image Credit: Flickr - Intel Photos] 
If you're one of those many online gamers, who are in the search for cool games to pass time, you can find tons of free online gaming websites out there, offering free-to-play games with a simple search on Google. However most of those sites are filled with advertisements and some of them even distribute spam and viruses by misusing users' personal details. But, don't worry, there are good sites too. The followings are some of the best online gaming sites that I personally use to secretly play games behind my boss' back. All of them are full of great flash games and yes, they are free to play. Go check them out. Also, if you enjoy playing casino type games, you can click here for bgo online slots, a cool website full of fun online vegas style casino games.
EduFlash
sites.google.com/site/eduflash3
This is my favorite and go-to site for free gaming. I have it bookmarked on my browser. This site doesn't use any ads, no download required either. Just pick any game you like from the huge selection and play.
Addicting Games  
www.addictinggames.com
Just like its' name suggests, this site has a large collection of addictive free-to play games as well as great free mobile apps. This site is also suitable for kids who love Nickelodeon cartoons.
Cartoon Network
www.cartoonnetworkasia.com
This site is dedicated to Cartoon Network's most popular cartoons like Regular Show and Adventure Time, which even I enjoy watching most of the time. Just because this site is about cartoons doesn't mean it's only for kids because everyone can enjoy these games.
My PlayCity
www.myplaycity.com
In a wide range of categories like brain teasers, puzzles, arcade, action, adventure, this site offers a whole lot of fun games that made me come back to the site more often to finish my favorite games. This site is a must have for online gaming fans.
Mini Clip
www.miniclip.com
This site is similar to MyPlayCity, but MiniClip offers you a chance to download some of the awesome games and play whenever you like, without having to go online. If you have a slow internet connection, just head over to this site and download some games and start playing.