Hey everyone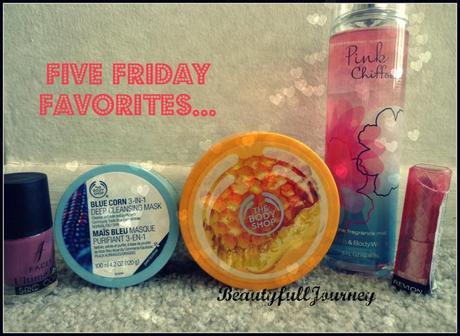 It's another Friday and another FFF post

I'm using a lot of bath & body, skincare products, fragrances and even some basic makeup like liner, gloss, powder! Last 4-5 months of 2013 I literally used nothing, even my baths were boring

but now I'm loving it all

So this week's favorites comprises of a mixed bag of stuff

Firstly, the nail paint I wore this week, Faces sand coat in Tiramisu – I reviewed this nail paint this week. I'm really enjoying this shade and its finish

more on this in the detailed post, Click here to read it

The Body Shop Blue Corn Face Mask – I bought this face mask in November but got around to using it just this January. Though my skin is relatively less oily these days compared to what it is in summers *horror*

but this mask still deep cleans my face so well and balances out the oils

I'll review this in detail only when I've used it more thoroughly!
The Body Shop Honeymania cream body scrub – this once has such an amazing texture

I reviewed it here. I can even use this scrub daily

Bath & Body Works Pink Chiffon fragrance mist – I bought so many fragrance mists that you saw in my BBW haul post. All of them are so awesome but I get confused which one to use and which not to

so I take turns in using one for one week and so on. And this week it was this gorgeous Pink Chiffon that was my most used one! It's such a sweet girly scent! <3 and isn't that bottle adorable?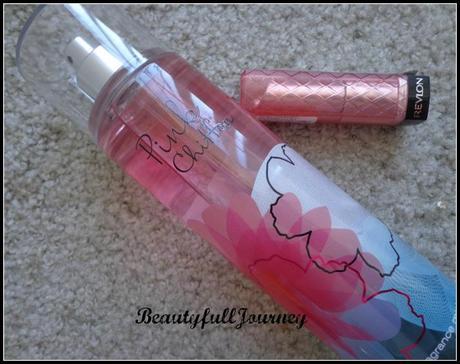 Revlon lip butter in Peach Parfait – This was my first Revlon lip butter and I loveeeee it so much. But amidst other new stuff, it takes a backseat now and then but I have kept it outside my makeup drawer these days not to forget using it

I have already used more than half of it and would love to make this the first makeup product I finish completely

I guess you all know about Revlon lip butters but a detailed review by me coming up this week!
So these were my five favorites from this week!
Don't forget to share your favorites with me in the comments