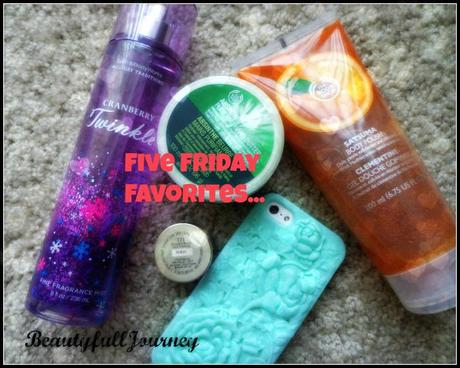 Hey guys!
I'm back with this week's Five Friday Favorites. I hope you guys enjoy reading such posts as much as I enjoy writing them

You must have seen in the news how Chicago(&other places) in US are facing extreme weather with some polar vortex which has hit these northern areas. I was so scared to come back in this weather. But the weather here is better and though there's fresh snowfall almost every alternate day, it's tolerable!
And for some weird reason, I'm actually enjoying this cold weather. Temperature these days remains in the range of -18/-12 to 0/1 degree Celsius!

So anyway, I'm again settling back in here, missing home a lot and getting used to the hectic life! But this time, I won't let blogging take a back seat, will be regular and take out time to write for you all regularly

So, these are my favorites from this week –
The Body Shop Satsuma body polish – I reviewed this here in detail this week. It's an amazing product and it smells heavenly <3  I'm loving it

L'Oreal black gel eyeliner – this is almost the only makeup I wear these days. I love gel liners and this one is a really really good gel eyeliner, maybe one of the best liners I've used. Very creamy, smooth and very easy to use! I'll try and review it soon.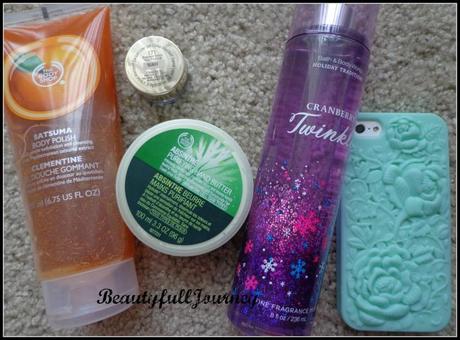 The Body Shop Absinthe hand butter – this is an amazing moisturizer, it also smells fresh and lovely

review coming up very soon !
Bath & Body Works Cranberry Twinkle fragrance mist – this smells so so so good! It is a mix of a lotttt of scents and I can't exactly place what it smells most of but it smells lovely!! I even love the bottle so much

And last but not the least, my mint green iphone cover from Charlotte Russe. You may remember the twin of this cover in my post here. In august, my sister and I bought matching covers for our phones from Charlotte Russe – one in peach and one in mint green. I took the peach one then and now when I went to india, we switched our covers. In the last few months, I've bought a lot of covers for my phone! I love changing phone covers

and when I went to India, my sister took all my phone covers

and now I have only 2. Though I find this is a littlleee bulky, but I fell in love with this one all over again, moreover its mint and that's my absolute favorite color in clothes and accessories these days

This looks so gorgeous <3
So, these are my favorites!

Do share your favorite products with me in the comments