Just a few players among the MLB stat leaders as of today … 
Troy Tulowitzki, 6-3, 215 lbs., currently batting .352

Miguel Cabrera, 6-4, 240 lbs, .325, 64 RBI's

Matt Adams, 6-3, 230 lbs., .328

Mike Trout, 6-2, 230 lbs, 58 RBI's

Adam Wainwright, 6-7, 228 lbs, 2.01 ERA

Giancarlo Stanton, 6-6, 240 lbs., 21 HR's, 59 RBI's

Jose Altuve, 5-5, 174 lbs., .334

Yu Darvish, 6-5, 216 lbs., 2.62 ERA
Wait … back up.  5 foot what?  Is that a misprint?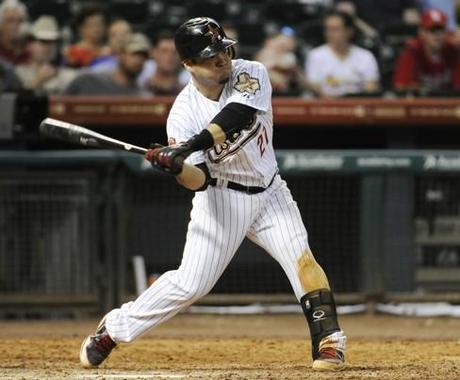 Jose Altuve. 5'5″ and not a misprint.
Of course, if you have been following baseball, you know that the 5'5″ Jose Altuve is certainly no misprint.  And with what you know about giving heights, usually in reality the height is jacked up at least an inch in the media guide.  Altuve, the second baseman for the Houston Astros, is currently leading the American League in batting average and leads the majors in hits with 107.  It reminds me of the Sesame Street song "One of these things is not like the other."
Jose Altuve along with guys like the 5'8″ Dustin Pedroia show daily that baseball clearly is still America's game no matter what the genetic freaks of the NFL and NBA say.  Like America, it's still a game where the average guy (or slightly below average guy in height) still has a chance.
Altuve, Pedroia, and the other "vertically challenged" should be an inspiration to many kids out there who still believe that sports are for the over six-foot crowd.  Height surely helps in most sports but it certainly is not a necessity.  Nor is it a guarantee.  Living near Philadelphia, I've had the (dis)pleasure of watching the 6-5, 230 lb Dominic Brown literally be among the worst MLB players currently playing regularly according to MLB stats.  He's having a rough year and I wish him well but it proves height and weight only go so far.  We've all seen a ton of players who "look like Tarzan but play like Jane."
I'm pulling for Altuve.  I hope he keeps it up and wins a batting title.  It's great for the game, it's great for America, and it's great for those kids who play the game and are told by their coaches that "it isn't the size of the dog in the fight, it's the size of the fight in the dog" that matters most.