As a new season approaches all eyes are on the latest trends. This season, nude and natural hues are hot, and taupe is showing up in many of the spring makeup collections. A taupe eye shadow shade also has the benefit of being almost universally wearable on any skin tone and it tends to will blend well with other shades. At the other end of the spectrum, bright pops of colors with brilliant blues and bright violets are also popular this spring. So, whether you like a natural look or a lot of color, you will be in style this spring season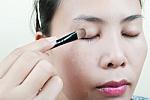 The following five eye shadow choices are widely available with either a trip to the mall where samples can be applied. With a click of the computer, color palettes are vibrantly viewed from any beauty page or website.
1. Georgio Armani 'Madreperla' Palette is a fresh edition with a pretty neutral, gold, and taupe. Eyes done up with shades from this palette are adorned with a satin-like effect. This eye shadow is enclosed in a black, smartly designed, lacquered compact. This product is freshly worn for hours. Georgio Armani is a designer of countless facial products with eye shadows of superb quality.
2. Burberry Sheer eye shadow offers a versatile palette of earth tones to blend with any skin color or tone and also offers a few bright shades to add a pop of color in line with this year's trend. Application of this product is smooth and silky, with a creamy, yet light consistency. This productsis a new spring and summer collection by Burberry.
3. Lancome 'Color Design' Shadow & Liner Palette comes in various choices and each is extraordinarily luminous. Lancome five shadow palettes come together to bring your eyes to a new brightness. This powder shadow presents with a laminating look of smooth silk to adorn your eyes. As a bonus, your eyes will look the same even 8 hours after applying. The shades of Lancome shadows will not fade, looking true to the very end.
4. M A C eye shadow has won numerous awards by magazines such as InStyle and Allure. Eye shadows by M A C will either be chosen in a frosty iridescent look, a lustrous and pearly smooth finish, or a Matte opaque blend of striking intensity. The satin finish is of a subtle sheen, while the velvet comes across as a velvety and plushy appearance. MAC comes in every color under the sun.
5. Stila eye shadow is widely available and also offers many shades.  Their new In the Garden Palette is particularly nice for this upcoming spring.  The pressed formula comes in hot fashion tones as well as the more neutral taupe-like color. Stila eye shadows are applied either wet or dry. The compact is reusable by simply removing the magnet and pan to replace with more Stila eye shadows as you wish.
Whatever brand is chosen, it is no secret that your eyes are often noticed first. Choosing just the right products for your look will brighten your way into the new season of design and fashion comes our way.
Carleen is a freelance author and blogger for sites such as BeautyAndFashionTech.com, which focuses on technological advances in beauty, including reviews of items such as the Verseo Eglide and flat iron reviews.
The Real Supermum
USA
loopylouise2011@hotmail.co.uk