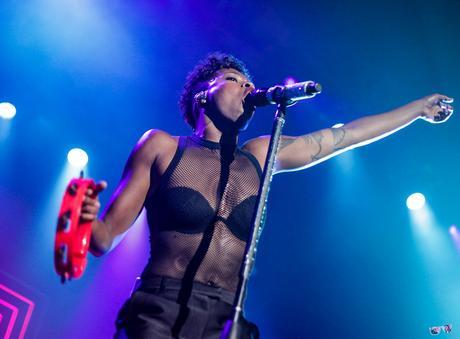 Photos by Joseph Mikos
Fresh off their amazing performance at Firefly Music Festival, Fitz and the Tantrums took their fun and engaging show to Terminal 5 in NYC Tuesday night. We arrived early to catch the openers from San Francisco, Finish Ticket. It's been a while since I've seen fans intensely dancing and singing along to a first act, but that's exactly what I witnessed. Finish Ticket opened up to a pretty packed and engaged crowd — they rocked, and we took more of a liking to them with each new song.
Minutes before Fitz and the Tantrums took the stage, volunteers walked through the crowd to paint fans' hands to look like the cover of their new album — it made for a pretty incredible sight throughout the set. And during the set, the band absolutely killed it — their contagious moves and good vibes made it easy to keep dancing to their upbeat and catchy tunes all night long.
Featuring many songs from their new album, along with some of their big hits from past albums, this show was the perfect combination of material. Thanks for the fun night Fitz and the Tantrums — you were ridiculously awesome and super tiring.
Finish Ticket





Fitz and the Tantrums