Hello buddies! I hope there are many health conscious people among you, because today's post is about fitness apps for android phones- Fitness Buddy!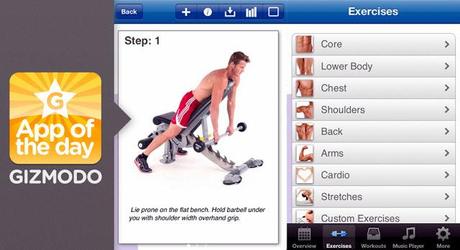 Description
Category- Health and Fitness
Updated- 26th January, 2013
Version- 1.2
Size- 3.8 MB
Language- English
Price- $0.99
Fitness Buddy is one of the most popular android health apps. It works like a comprehensive workout planner and instructor for you.
Fitness buddy is a compilation of over 1700 exercises instructions, consisting of text as well as pictures. You can browse the workouts category wise so that you can focus on your problem areas and specific muscles. It also keeps a check on your workout schedule, body metrics and weight. It maintains a log of your workouts and shows what's next on the list. This way you can benchmark your progress and never miss out on any exercise. You can also create a playlist in the in-built music player. Music is after all the best companion while you workout, making it a fun activity!
Features
More than 1000 workout pictures and animations
Detailed exercises with major equipment

 including barbell, dumbbells, resistance bands,  stability balls etc.
Lets you add your own 

exercises

 too.
Over 75 different workout routines- goal specific, equipment specific. Special routines for women.
Helps you build your own customized workout routine.
Accolades- Recommended by Gizmodo, Lifehacker and ESPN magazine as the best fitness app ever.Rating- 4.3 out of 5

System requirements- 
Android 2.2 or later
Fitness buddy is a very user friendly and pocket-friendly app, making it worthy of given a try.
Other recommendations- Also look out for 'Shopping list app android' and 'Travel apps for android'.