I've been waiting ages for some thing that can track continuous heart rate, sleep, workouts, steps and calories burned. Here it is! The Fitbit Surge.
I sold my Garmin Vivofit just before Christmas, waiting for the Surge to come out, and like magic on my Birthday Fitbit released the pre-orders and I was online ordering my new best friend. Shipping time was 2-3 weeks – and when 2 weeks were up – my new gadget arrived! Paying the extra £5 for express delivery was worth it!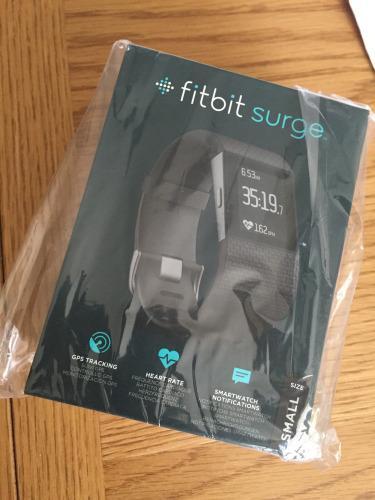 Having not physically seen the Surge before, I opted for the small size. The only available colours at the time I ordered, was black, which is actually nice and fairly universal. Although if the tangerine had been available I might dared to go orange!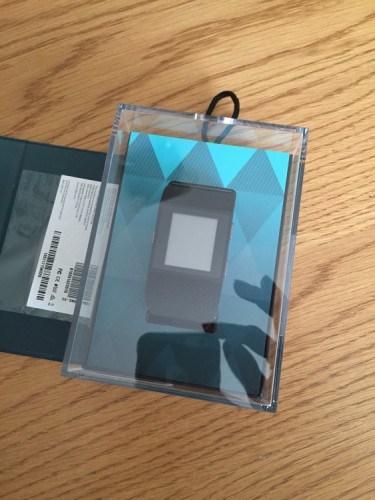 I was actually impressed with the packaging, however far too many security stickers! The solid outer box rolled out, inside was a plastic shielded case making it look pretty good. Definitely better presented that the Garmin Vivofit.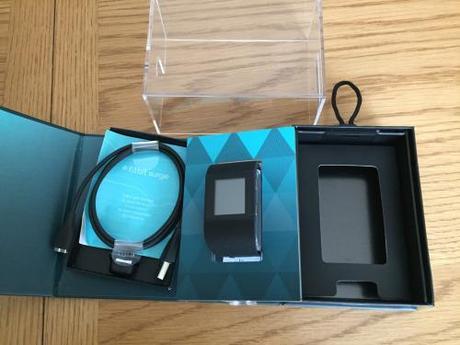 In the well presented box you have the real Fitbit Surge, Charge Cable, USB dongle and quick user guide.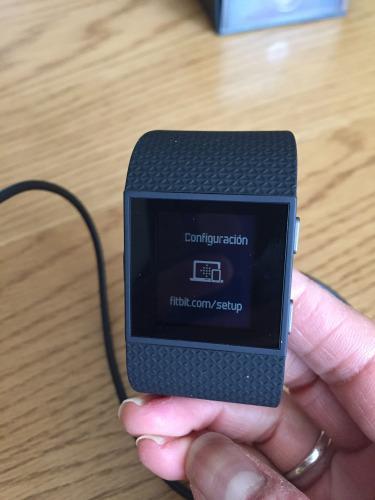 Configuration was super quick and easy, specially since having an Iphone.
Download the Fitbit App
Log in to App/ Set up a user name
Register a new device – takes about 2 minutes
It's all done then the app takes you through a quick guide on how to use the surge
Its Ready!
It was pretty painless and stress free.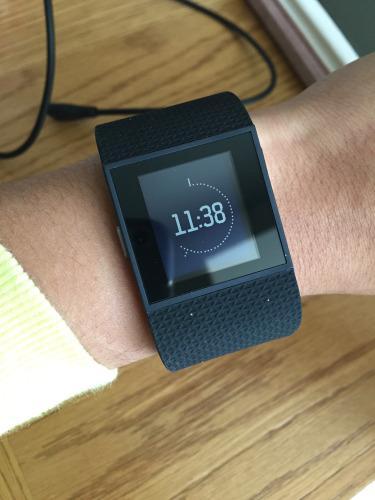 As you can see, the Fitbit Surge was definitely not designed for a female wrist! Its massive – actually humongous! Well at first anyway – after a day or so, you get the used the size and it is comfortable. I think if you were an average to large 6 foot bloke, it probably looks ok – and it looks nice on my husbands wrist ( well holding it as this small one didn't actually fit him).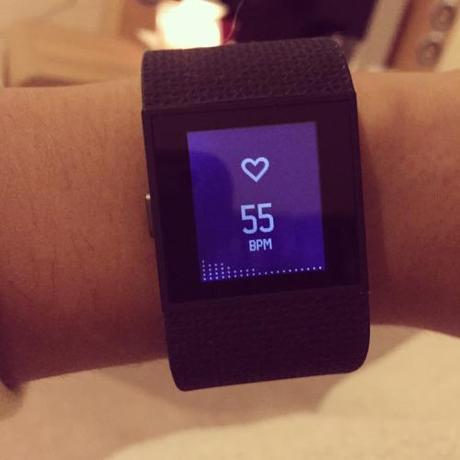 The Fitbit has what they call the "Pure Pulse" technology, which gives you continuous all day wrist base heart monitoring. Which is the best feature I love. As perviously I had the Garmin Vivofit that could do all day – but you would have to wear a heart rate strap! With the Surge being on your wrist, it's not enoying on irritating. I'm an avid watch wearer anyway, so having The Surge on my wrist didn't bother me. If you are not a daily watch wearer I could see that it might be something you would have to get used to.
Knowing your heart rate helps you more accurately track calorie burn and helps you support or intensify your workouts, which was one of the reasons I decided to go for the Surge.
Fitbit has preset ( but you can alter) heart rate zones, to help get the most out of daily calorie burn and workouts.
Fat Burn: a moderate intensity zone to improve basic endurance and burn fat
Cardio: a high intensity zone that helps you improve cardio performance.
Peak: a maximum intensity zone used by those at higher fitness levels for interval and endurance training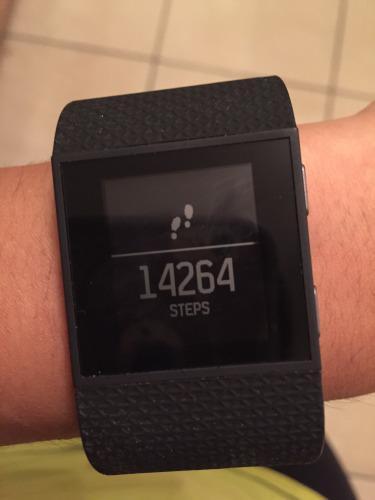 All day activity tracking is pretty good, it tracks steps, floors climbed, distance and calories. I haven't noticed any wild step additions like my vivofit used to do – i.e. brushing teeth or whisking eggs adding extra steps – so I think that is pretty clever. You must remember it is just tracking movement with its smart algorithms trying to figure out what you have done – and its never going to be perfect, but seems a lot better the Fitbit Flex. I was definitely like the floors climbed bit – as I tested it living in a 3 story house – and running up and down the stairs to see what and how many floors it registered. I was on the money with my tests.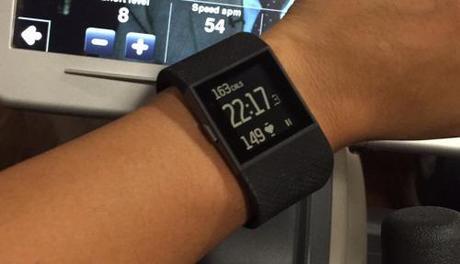 During a gym cardio session, the multi-sport mode was pretty easy to use and navigate through. I did have to adjust the surge a few times to make sure accurate Heart Rate Monitoring, but once it was on – it was similar to the Cardio Machine heart rate tracking via the hand-held bars. You can scroll at the bottom to show time, heart rate, calories, distance or steps which I thought was pretty good. Now during a sweaty workout my arm did sweat slightly causing sometimes having issues with the HR tracking, but it's no different to my heart strap to be honest.For the most part I was pretty happy with it – now I must admit the heart strap definitely feels more accurate – but with wrist base I think this isn't bad.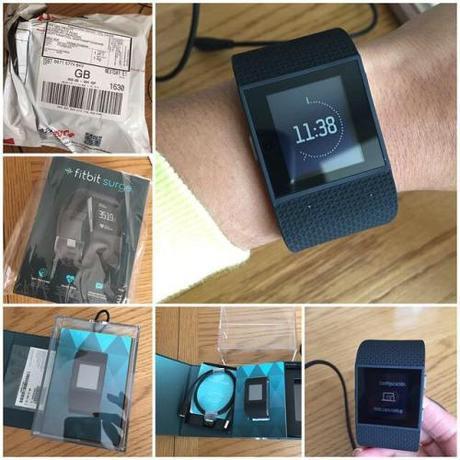 Another reason I opted for the Fitbit Surge is that it's Water Resistant to 5 ATM ( which means up to 50m), no although Fitbit state they don't recommend swimming with it due to swimming force, I'm not an olympic swimmer so I think for me swimming with it should be fine.
The battery life so far seems to last about 4 days which includes about an hour of work outs, notifications on and all day syncing.
Here is my first You Tube Review!