My friend
Heather
is beginning
a brand new link-up
designed to help all of us moms out there who need to get/stay in shape!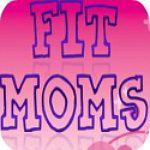 Here's how it works:
The purpose of this club is to create a blogging and Twitter community where Moms can link up to support and motivate each other in our exercising efforts.
If you have a twitter and would like to support and motivate others, please use the hashtag #fitmomsclub.  
Write a blog post sharing what your exercise goal is or what your workout consists of.
Be sure to follow Heather on twitter @hsvihl
It'd be pretty cool if you followed me on twitter too @TwinglesMom42*
It would be great if you posted the button on your blog.  
I'm excited to join, as many of you know that I've recently attempted Spin classes. I took my first class on Saturday and literally felt like I might throw up and/or pass out afterwards. I took my second class on Monday and felt a bit better. You know, at least I could see straight when I got off the bike. Today I took my third class and let me tell you - I. feel. awesome. It was the best class so far. Great workout. Great instructor. (Side note: The instructor actually said she never would've guessed it was only my 3rd time taking the class. I'm fairly certain this was lip service to try to get me to come back to
her
class. It worked.) I'm actually looking forward to going back. I think I just might have to go out and buy those cycling shoes that my
good bloggy friend
mentioned I might want to get if I plan to continue this Spin thing.
So my current goal is to keep up with the classes at least 3x per week and do some other type of exercise on most of the days I don't do Spin. I'm also hoping I'll be down a pound or two when I weigh-in at Weight Watchers on Saturday morning. I'll keep you posted!
*Obviously, I added that part myself. 
Are you a mom trying to regain some of your pre-baby fitness? Link up so that we can all support and encourage each other!