That's a hefty sell-off and we'll see if we get some follow-through but we pretty much hit our downside targets on the head in a single day as I said to Members in yesterday's Morning Alert:
About 13,000 on the Dow. 1,400 on S&P, 2,980 on the Nas, 7,950 on NYSE and 800 on the RUT are about the lows we have to hold – all seem like good spots to go long to me with tight stops if we break below but let's look at this as a head fake except with a bit more conviction as 50% of the population sincerely believes they have to flee the markets before 4 more years of Socialism take us up another 100%.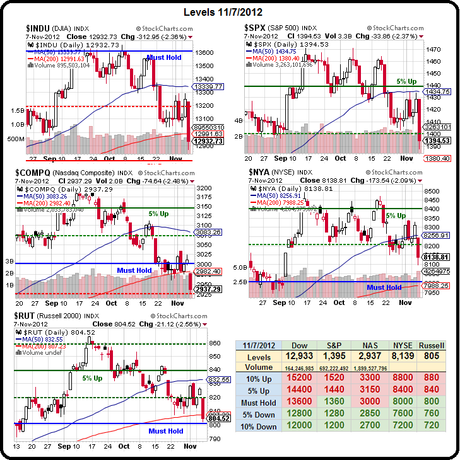 As I mentioned in the morning post
, this is mainly sour grapes selling by Romney fans but there are also legitimate reasons to take some of this year's massive stock profits off the table ahead of possible large increases in capital gains and dividend taxes.  Still, we knew this was coming on Tuesday, when the market rallied massively on thoughts of QInfinity and ZIRP as far as the eye could see.  
We didn't quite hold our targets so we couldn't get too bullish at the lows but we remain hopeful that there was a bit of over-reaction in yesterday's sell-off and that the truth will lie somewhere in between Tuesday's ephoria and yesterday's panic – let's call it 13,100 on the Dow and 1,410 on the S&P as our goals for Friday and then we can all take a deep breath and think about things over the weekend. 
IN PROGRESS
This article will become free after 48 hours (see below for free content). To read the rest of this article now, along with Phil's live intra-day comments, live trading ideas, Phil's market calls, additional member comments, and other members-only features -
Subscribe to Phil's Stock World by clicking here
.