Donald Trump continues to give the GOP indigestion.
Reuters poll of January 5 has him leading the field of Republican candidates, with 42% support from GOP voters. Ted Cruz, the runner-up, lags far behind, at 14%, followed by Ben Carson (11%), Marco Rubio (8%), Jeb Bush (8%), and Chris Christie (3%).
Trump also got a big boost yesterday just 13 days before the Iowa caucus when former Governor of Alaska Sarah Palin gave her endorsement. (New York Times)
Here's our suggestion for the first "Donald Trump 2016" campaign poster!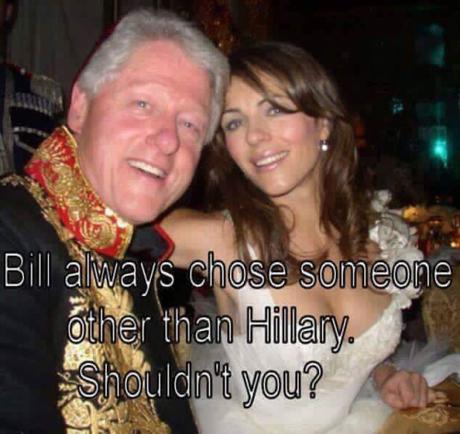 Bill's infidelities began way, way earlier than conventional knowledge — to when he and Hillary were supposedly committed to one another, though not yet married.
According to Linda Tripp, Bill Clinton had bedded THOUSANDS of women. He's really just another Charlie Sheen.
See DCG's upcoming post, "Hillary's war on women: Power-hungry Hillary will do anything to keep the Clintons at the top".
H/t FOTM's GiGi and maziel.
~Eowyn