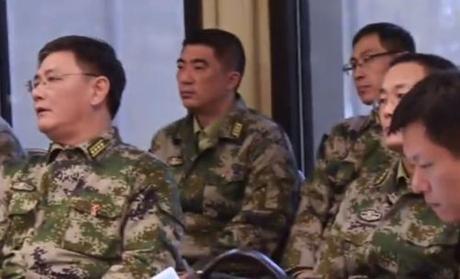 Adam Ashton reports for The (Tacoma) News Tribune, Nov. 20, 2015, that "an unusual military exchange" took place this past week when 80 soldiers from China's People's Liberation Army were brought to a military base in the continental U.S. for the first time — the Joint Base Lewis-McChord (JBLM). (There had been at least one instance of the Chinese military training in Hawaii.)
Joint Base Lewis-McChord is a U.S. military installation home to the I Corps and 62nd Airlift Wing located 9.1 miles south-southwest of Tacoma, Washington. Lewis is the U.S. Army Fort Lewis; McChord is the U.S. McChord Air Force Base. The two were merged on Feb. 1, 2010.
The military exchange is the latest in an 11-year sequence of formal exchanges between the U.S. and Chinese armies focused on preparing for natural disasters.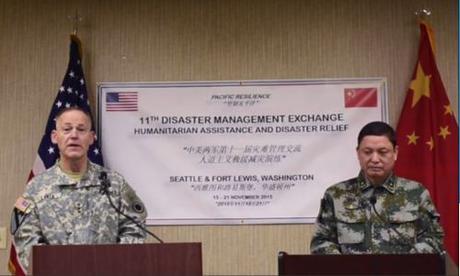 Leaders from both countries view disaster preparation as an area where they can cooperate and build trust, possibly reducing the likelihood of an armed conflict in East Asia.
"Any time you continue to have partnership, you continue to communicate, you continue to train together, that's what contributes to de-escalation," said Lt. Gen. Stephen Lanza, commander of JBLM's I Corps.
Maj. Gen. Zhang Jian, the highest-ranking Chinese officer participating in the exchange, said, "This exercise will help the two sides … so we can jointly maintain peace and stability."
This week's exchange asked senior-ranking soldiers from both countries to play out how they might respond to a serious earthquake on a fictional Pacific island. Ground-level soldiers participated in exercises where they demonstrated search-and-rescue techniques. In the past, the U.S. and China have responded separately to extreme natural disasters, such as the earthquake in Nepal earlier this year.
Maj. Gen. Edward Dorman, commander of the Army's Hawaii-based 8th Theater Sustainment Command, said that with practice, "the U.S. and the (People's Republic of China) can enhance collaboration so we can bring a more timely response in a humanitarian disaster."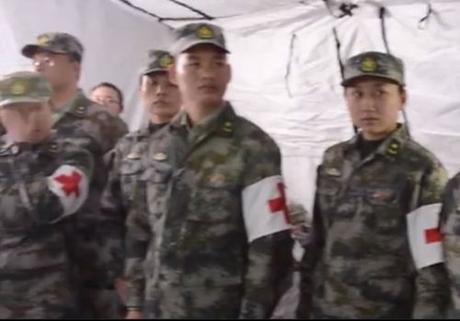 Out in the field, ground-level soldiers from both countries appeared to enjoy themselves. They showed off tools they use to extract people from damaged buildings and shared methods of treating the injured.
"We should get one of these," a search-and-rescue airman from the Washington Air National Guard proclaimed as he watched a Chinese soldier wield a saw that made cutting rebar look easy.
JBLM's Spc. William Soyster, 24, said the exchange left him feeling hopeful: "With all the craziness in the world, it's nice to be working with the Chinese army. It's a reminder that we're all in this together. We're all human."
The News Tribune did not quote any Chinese soldier in the exchange expressing similar feelings. In fact, as you can see in a video about the exchange, from which I took the above 3 screen shots, the faces of the Chinese military at JBLM all look grim, if not dour.
~Eowyn