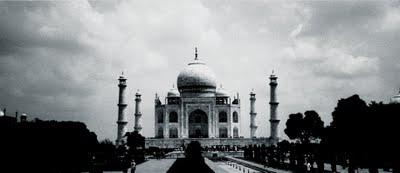 Taj Mahal, Agra, India
Here it is. Part one of a series that originally started on my movie blog http://www.tickertalksfilm.blogspot.com/. It's a simple idea actually. I ask some of my twitter friends, "what is the first thing that comes to your mind when I say (insert name of a place)?" and we get a general, although short idea of people's perceptions about the place. The catch is that you have to keep your answer to a maximum of one sentence. I started something similar on my movie blog although that one obviously relates to cinema. It's a good way to interact with some of my twitter followers and also it is a way for you to find out about some cool people on twitter, because I know you will and you should follow them.
Starting off with the series;
"What is the first thing that comes to your mind when I say India?"
@

travelcanucks

-
Challenging but rewarding
@
laurenameliaw
-
Crowded, dusty streets, rickshaws coming from every direction and curry for breakfast. - how exciting :D
@
connvoyage
-
Vibrant colors and intense smells!
@
CrownePlaza
-
just one word for India... Incredible!
@
beforeiam35
-
A huge, very diverse, densely populated country with great history and culture that i would love to visit.
@
clariecjt
-
A country of contrasts: deep and vibrant culture, beautiful gentle people and delicious food but with many social and...
@
traveldudes
-
Incredible... Like their official slogan. :)
@
travelsofadam
-
"Interesting" - Every time someone asks me what I thought of India, that's the very first word to come to mind and it sums it up perfectly.
I would like to thank all of the above for answering my question and making this post possible.