When my friend Gabi told me she had to go spend some time in her home town of Trier in Germany I thought, "I haven't been to Germany in a while, and I've never been to Trier".  So I joined Gabi on a two week excursion.  I have many friends in Germany, and I figured I'd travel around a bit to some other cities.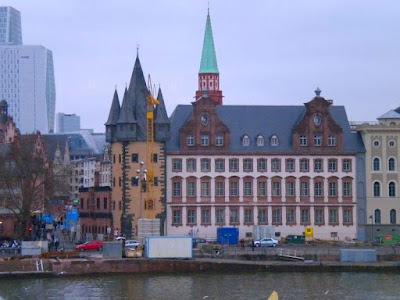 A View from a bridge on the Main in Frankfurt
Trier is a bit out of the way ("liegt am arsch der Welt" as Gabi says), so there's no easy route from an airport. Whether you fly to Cologne or Frankfurt, you have a long train ride ahead of you.  Since Gabi had never been to Frankfurt (other than its airport and train station), and I have friends there, it seemed like the perfect opportunity to stop in Frankfurt for a visit before coninuing on to Trier.
We had a bit of "excitement" on the way to Frankfurt: There was a strike in progress at the Frankfort airport, so the pilot warned us we might have to circle for an hour before landing.  But we seemed to be on schedule until a passenger had a heart attack.  Gabi's a nurse, but there were four doctors on the plane, so she didn't need to pitch in.  We were diverted to Vienna to drop off the patient.
I needed to call Margaretha; she was picking us up at the airport and this detour would certainly detain us.  I'd been too tired the night before to get up and put pen to paper, so I'd written her number on a note on my ipad and put it in my dropbox.  For some reason this note was not accessible without internet, and my ipad needs a wireless connection.  So I tried my kindle, which has 3G.  But my kindle has something wrong with its image display.  I can read books but not see images; the internet wasn't visable at all.
So, the last resort was my phone.  I didn't have an internet plan on my phone because I figured I spent enough time on the internet without it.  But now I needed it. I was able to access Turkcell and get internet service on my phone, so I went to Margaretha's website. She's a singer and teacher, and I figured her contact information would be there.  But the mobile display didn't show it.  I had to switch the display to show the orignal site, and eventually I was able to find Margaretha's number.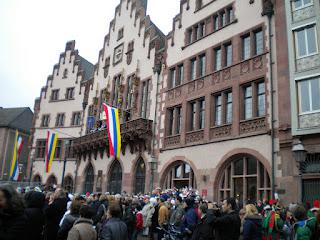 Crowds gathered near the Rathaus for Karneval
I don't usually travel without a hard copy of all the information I need, and I'll never do it again.
In any case, I did reach Margaretha, and she picked us up and took us to her home where she served us delicious cappuccinos. (The search for good coffee in Antalya is a never-ending quest.)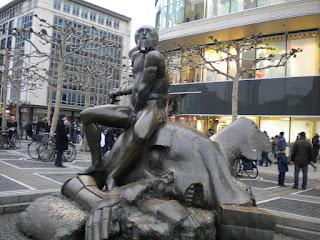 David and Goliath, in Frankfurt
After a nice chat and printing out our train tickets for Trier, Margaretha's husband Guenter returned and it was time to head out for dinner.  We had many cuisines to choose from, but decided on local German food, so they took us to a traditional place downtown where we ate schnitzel with "green sauce".  This sauce is a specialty of Frankfurt, and is made with seven herbs and creme fraiche.  It looks a bit like guacamole, and it tastes pretty much how you would expect creamed herbs to taste.  Along with the tender schnitzel and roast potatoes (bratkartoffel, which taste better than roast potatoes outside of Germany), it was a very satisfying meal.
The next day Margaretha and Guenter showed us around town, including the skyline known as "Mainhattan".  You see, Frankfurt is on the Main river, and its skyline is supposed to remind one of New York.  I didn't exactly see the comparison, but okay.
Although Frankfurt is known as a business and financial center, it also has an old center with  a pedestrian zone, a Gothic cathedral and half-timbered houses.  It also has lots of public art, both as permanent sculptures and temporary installations, as well as street performers; I counted three digeridoos. Because we were there during Karneval, we also saw men in 18th century dress firing a canon.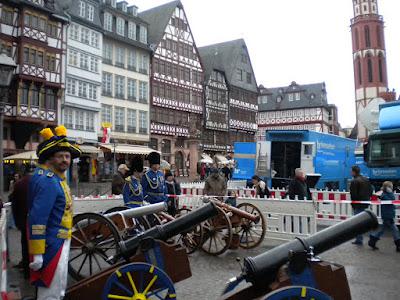 You can smell croissants and berliners (jelly donuts)cooking in bakeries on every block, and a variety of wursts are available. The view of the city from the bridge across the Main river is picturesque.  All in all, I'd say Frankfurt is a very pleasant city.