Gwen, one of our innovative designer elves, has been hard at work on her latest creation. She's putting the final touches on a project we've been dreaming about for a long time: the Soft Star ballet flat!
Our new ballet flat will be offered in a variety of materials, colors and motifs. We're now excited to share with you the first official photo showing what one of them looks like: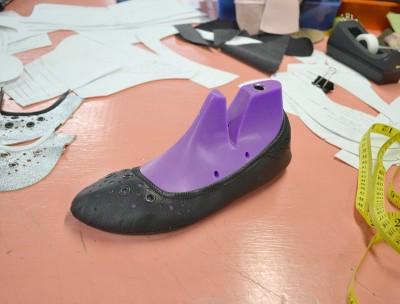 We still have a lot of work to do before we're ready to release this new style, which is currently scheduled to go on sale in August, 2013. We hope you'll stay posted for more updates, because we may be asking for feedback on color choices!
On the horizon...
Many people have inquired about our plans for an adult sandal. We're happy to say our designers are currently working on a pattern for one, but it won't be released until spring 2014. Also on the drawing board: a men's dress shoe!