We hope you can forgive us today for being a  bit distracted by a certain tiny, little, premiere event that has been taking place in LA. However with just 4 days to go until True Blood returns to our screens – 4 DAYS!!!!! the first reviews of Season 6 are beginning to roll in from critics who have seen the opening episodes.
Whilst True Blood is most certainly no longer the reviewers "darling" of a show, and Trubies pretty much know what they are going to be getting, reading what everyone else has to say about the madness and mayhem in Bon Temps can help pass those final few excruciatingly long hours until it's (to quote Jason Stackhouse) "Go Time".
Reviews tend to be very spoilery these days, so we are providing the links below, expect to discover some big spoilers if you click!
We will just give you one quote from Fearnet, which rather caught our attention:
Eric is clearly in love with her still, and Sookie seems to be in love with him, but right now, she needs to focus on Sookie.
The entire Fearnet review is here
The New York Post describes:
Lesbian vampires, three-way werewolf sex, skinless naked ladies romping about the glen! Oh yes, and one old-man faerie godfather who seems to keep his clothes on.
Their entire review is here
Whilst Variety are cautiously optimistic:
After a couple of seasons where the show and its mythology have grown increasingly crazy and outlandish, "True Blood" returns on somewhat surer footing, with a couple of key cast additions and driving storylines to bolster the serialized drama.
You can read all of what they have to say here
Over at watoday, they name episode one as their pay TV show of the week but have a similar opinion to a lot of us about the weary weres:
what a vampire show really needs to do to stand out from the crowd is to not have werewolves. Tonight we see that True Blood still has a whole stinking pack of them, and all the viewer can do is wait and hope for an outbreak of canine parvovirus to carry them off.
Their thoughts are here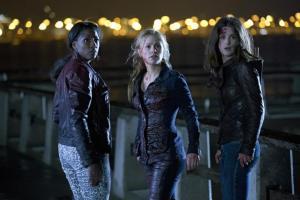 One small piece of casting news revealed at last night's premiere is that Courtney Ford will be returning as Bill's great. great, whatever granddaughter, Portia Bellefleur, for at least one episode (ep.7).