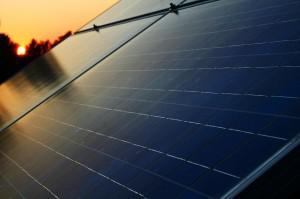 While renewables accounted for just 1.5 percent of total energy production last year, the Obama administration has approved at least 29 green energy projects on public lands as part of its "All-of-the-Above" initiative. If all projects are completed, the renewable projects will produce more than 6,500 megawatts of electricity, or enough to power more than 2 million homes. The most recent project completed—the Enbridge Silver State North photovoltaic (PV) solar installation in the Mojave Desert, Nevada—is the largest of its kind on public property. It is expected to provide enough electricity to power roughly 9,000 homes.
The project will not only help the state reach its goal of producing 25 percent of its energy from renewable sources by 2025, but also marks the first major solar installation on public property in the U.S. By producing 50 megawatts (MW) of power, the Enbridge solar project will offset carbon emissions equal to 8,000 cars annually (42,000 metric tons). On average, the 16 other solar projects approved by the Department of the Interior (DOI) produce just 35MW. DOI Secretary Ken Salazar called the recent project "a landmark for the solar industry and a landmark for how we use public lands." The DOI stated that 2009 was the first year solar energy projects were approved to be built on public property.
Canada-based Enbridge Inc. acquired the Silver State North solar project for an undisclosed amount from First Solar (which recently announced major cutbacks). Enbridge President, Al Monaco, indicated that while fossil fuels aren't going anywhere, a long-term transition toward greener energy is evident. The massive solar array consists of more than 800,000 thin-film PV modules developed by First Solar, which sit on roughly one-square mile, 40 miles south of Las Vegas. The electricity produced by the solar panels will be purchased under contract by Nevada's main electric utility, NV Energy, Inc., for the next 25 years.
Image by Pink Dispatcher