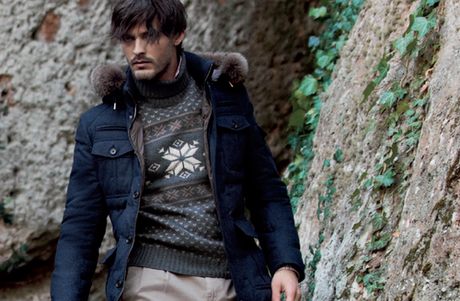 I've grown tired of the "hashtag-menswear" look - ill-fitting jackets with cropped pants, tight shirts, cutaway collars, and sockless, unbuckled double monks. I thought this was just something confined to Tumblr, but even the (younger) sales associates at some of my favorite stores in San Francisco are sporting this style now. It's kind of depressing.
In any case, despite not liking the current trends, I still like the blogosphere's designer darling, Brunello Cucinelli. Pictured here is their latest fall-winter lookbook, which was shot in some of Tuscany's valleys. Unlike previous lookbooks, this one has been styled with a strong casual focus. Rather than have models wear sport coats with cargo pants, the men here are shown wearing down vests with jeans, parkas with chinos, and layers of knits over corduroys. Maybe Cucinelli has had enough of Pitti streetstyle photos as well.
Either way, a great collection and one that inspires a lot of casual style. Rather than trying to dress down a suit with running sneakers or wear sport coats and dress trousers with "fun socks," I think men would do better by taking their cues from here.