Two days ago, a sickening sycophant of a rabbi in Israel, Ovadia Yosef, called the POS a king.
Now comes news that the Brits, conditioned by centuries of monarchial rule, have fashioned the First Lady of Snot into a queen.
Buzzfeed reports that FLPOS topped the UK's Sunday Times' Style magazine's 50 best-dressed people in the world list. The fawning magazine then "immortalized" the FLPOS on her very own British first class postage stamp design — a space traditionally reserved only for their Queen.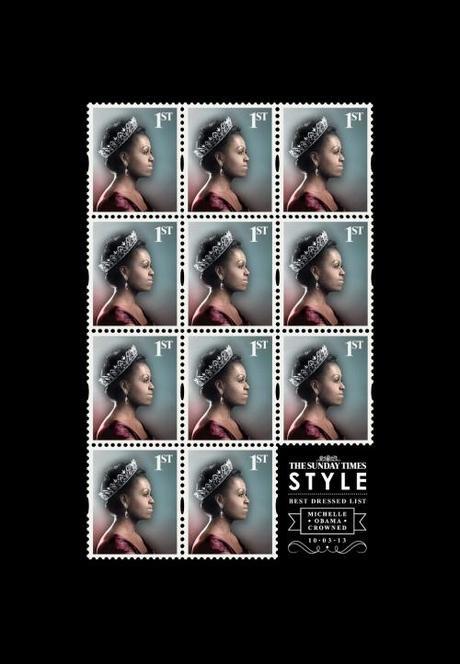 Pass me the barf bag!

Some queen. If you haven't seen this video of snot dribbling out of the queen's nose, you simply must.
On February 28, 2011, the First Lady of Snot gave a speech at the National Governors Association Meeting in the White House. Here's the video, provided by the White House (fast forward to the end of the video where you'll see the http://www.WHITEHOUSE.gov imprimatur).
Go ahead and verify the following for yourselves:
At the 10:47 mark: M.O. wipes her nose with a finger.
At the 11:16 mark: The sniffles begin.
At the 12:50 mark: Visible shiny mucus secretion from her nose.
Beginning at the 14:20 mark: A drop of mucus comes out of her left nostril.
Beginning at the 16:10 mark: The droplet of mucus is clearly visible.
At the 16:55 mark: M.O. wipes nose with right hand.
At the 17:02 mark: M.O. wipes nose with left hand. Right after that, I do believe I saw her tongue flicking up to lick the moisture.
H/t ConservativeByte and FOTM's Miss May
~Eowyn